If you don't follow me on Twitter, then you may not have noticed how in love I am with the #YesAllWomen phenomenon. Personally, it became very difficult for me to maintain such conversations when Maya Angelou passed, but despite that, and the hashtag's bump off the top trends at Twitter, I manage to maintain conversations. (My goal, and yours, should be to talk about the realities of women's lives daily to ensure the conversations continue. The hatred and misogyny, the misinformation and bad defensive attitudes, they all continue so the conversations must.
Today's example comes from the Washington Post: One way to end violence against women? Stop taking lovers and get married.
Oh, sure, they went and changed that horrible title & subtitle…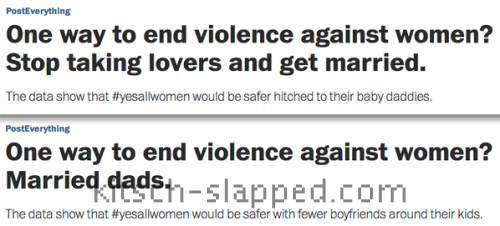 But that's not much better, is it?
The general point of view in the article itself is one of victim shaming. Along with that, there's the whole shaming of single women, especially single mothers (see history of this here). — and the assertion that "single women who date more" are the problem is rife with problems. Simple, obvious problems.
Yes, it may be safer for women (& their children) if they remain with one man — but that's because the majority of gender-based violence is committed by someone the woman knows. Ditto child abuse. So, even as the percentage of abusive men remains the same, the more men a woman knows, the greater the number of bad men she knows and so grows the likelihood that she will be attacked, raped, abused, etc.  Yup, that's how math works.
So what W. Bradford Wilcox and Robin Fretwell Wilson proclaim is that women, the victims and potential victims, once, must again, be the ones taught to control rape culture & misogyny. That way, if it happens to them, they are to blame. We give permission to men because the women didn't protect themselves enough.
Why can't the men be the ones educated and blamed?
One of the fundamental points of #YesAllWomen is that our culture has it all backwards. The burden should not be on women to take actions to prevent themselves from what men do, but that men need to cut this shit out. And we all need to stop justifying bad & violent behaviors.