After an incredibly busy & exhausting weekend (this was just part of it), I spent a few hours just loafing on the couch Sunday night. Channel surfing, I happened upon the Miss Universe Pageant — I wouldn't have watched, expect for they were announcing that the female part of Spidey, Heidi Pratt, would be performing a song. Like Scooby-Doo, I say, "Guh?!"
She can't sing' she can't dance — she can barely put more than three moves together & looks like a clomping horse (no offense meant to horses!) while doing it. Don't believe me? Watch it.
But by the time her performance was over, I was hooked on the train wreck qualities of the show.
Aside from Dean Has-been Cain (and Heidi, who I wish would just go away) the only person I recognized was Tamara Tunie — which surprised me because I've always seen her play intelligent women (a lawyer on As The World Turns; a coroner on Law & Order: Special Victims Unit). When Tunie and others asked their questions, they did try to bring up important issues:
Should AIDS testing be mandatory?
How does it feel to compete in a pageant wearing a bathing suit when some women are not allowed to wear bathing suits?
Are women equal to men?
Has being beautiful meant you have been taken less seriously as a business person?
Watching the contestants struggle to not answer the questions, to avoid the meat of the issue, was painful. It would be easy to call them robotic Stepford wives, but honestly, how could any of them answer the question directly (let alone honestly) and win the competition?
Watching them give placid answers designed to inflate the room's already high testosterone levels was to witness a horrifically powerful thing.
http://www.youtube.com/watch?v=_-LF9Y4SqdU
It reminded me of the unspoken issues we women have to keep mum about — or risk loosing what places, ground, we have as well as those we aspire to. Watching beautiful young women play that game in a pageant setting was astonishing. Especially in front of La Donald, Mr. Trump. :shudder:
But there was plenty to enjoy too — if your enjoyment, like mine, tends towards the perverse.
I enjoyed the fact that at least one contestant didn't take not moving on up with the ever shortening list of finalists as gracefully as she's supposed to. Look at Miss Switzerland's sad slump of despair!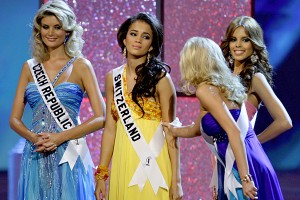 I enjoyed watching when Miss Venezuela won — making "history" by giving back-to-back wins for Venezuela in the Miss Universe Pageant — and the former Miss Universe was so excited that she threw the 2009 Miss Universe crown off & over the winner's head. (This is different coverage than I saw, but you'll see the crown fumble — and note the unfortunate caption "clinches the tit" as the word title is shortened.)
In looking for photos from last night's pageant, I found a great number of complaints about the racism in the Miss Universe pageant — especially with regards to Asian women. I haven't watched a beauty pageant in probably 30 years, so maybe I shouldn't take the claims as true… But it sure looks like nothing has changed. Except for the internet providing more place for public outcry against the Miss Universe Organization, predictions of which countries will no longer participate, and viewers vowing to switch to other pageants like Miss World.
If I am allowed to make one "purely girlie" observation (one more likely to please La Donald), it's that Miss Kosovo, Marigono "Gono" Dragusha, is nearly as externally beautiful as Audrey Hepburn. Not only does she physically recall Hepburn, especially around the eyes & in her ball gown performance, but I believe she had stated that she intends to become a counselor to help children affected by the violence in her country. (Miss Kosovo finished as the 2nd Runner Up, aka 3rd place.)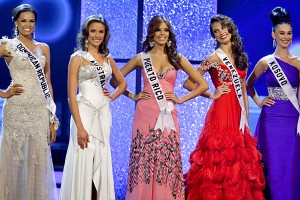 I don't have any plans to watch another pageant; but then again, I didn't plan to watch this one… I do think checking in every 30 years or so might just be enough.