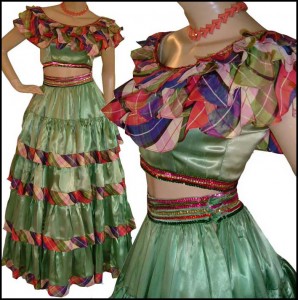 This misleading use of Carmen Miranda's name and garb is simply a means to lure you in and have you read & participate in the following news:
Today, thanks to the generous sponsorship of Twolia, Alessia of Relationship Underarm Stick is participating in the Hope For Healing blogathon, raising awareness of domestic violence & money for supporting victims of domestic violence. You can help too: Comment at, link to, & Tweet her blogathon posts!
Use of Carmen Miranda costume is also a promise-slash-threat: Failure to read & participate in the following news, shall invoke the powers of moi — I shall show up at your home at 4 A.M. loudly impersonating Ms Miranda. I warn you, I neither dance nor sing so keen; your neighbors will not be happy.
So exercise your (albeit, twisted) Carmen Miranda rights — to be free of my impression of the lovely lady — and participate in the conversation about domestic violence. All jokes aside, it matters.