On this date, November 6th, in 1967 a baby girl was born; just 21 years later, on July 18, 1989, she would be murdered.
The woman was Rebecca Schaeffer, an actress most famous for her role as Pam Dawber's sister Patti Russell in the CBS sitcom My Sister Sam. For some of you youngsters, this might be before your time. (Perhaps all you know of Schaeffer is that she was the inspiration for the 2002 Jake Gyllenhaal film Moonlight Mile; the film is said to be loosely inspired by writer/director Brad Silberling, who was dating Rebecca Schaeffer at the time of her death.) But I remember distinctly being a young 24 year old woman and being shaken by the news of her death. Her age being so close — even younger than my own — pierced my youthful resistance to mortality; but what was worse was the way Schaeffer died.
Schaeffer was murdered by a stalker, a man who considered himself a fan — until God instructed him otherwise. This man-fan named Robert Bardo had adored Schaeffer's youthful innocence, but disliked her new work as an actress when a small roll in Scenes from the Class Struggle in Beverly Hills put her in bed with a male character. "If she was a whore, God was going to appoint me to punish her," Bardo said. His mission now was to "stop Schaeffer from forsaking her innocent childlike image for that of an adult fornicating screen whore." Or at least that's the story he would later tell after he stalked Schaeffer at her home, was rebuffed, and retaliated by shooting her to death.
Whatever motivated Schaeffer's murderer, the fact is that her murder finally motivated the public to care about stalking. As is unfortunately the case in our celebrity-obsessed culture, it took the death of a celebrity like Schaeffer to generate awareness and concern. Such concern over Schaeffer's death would even lead to protective legislation.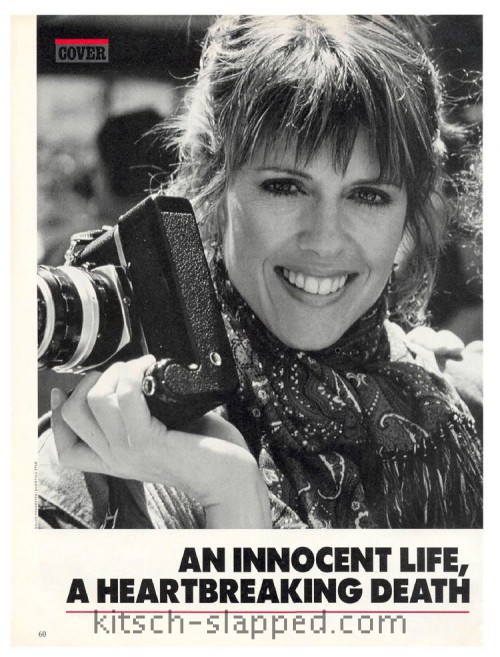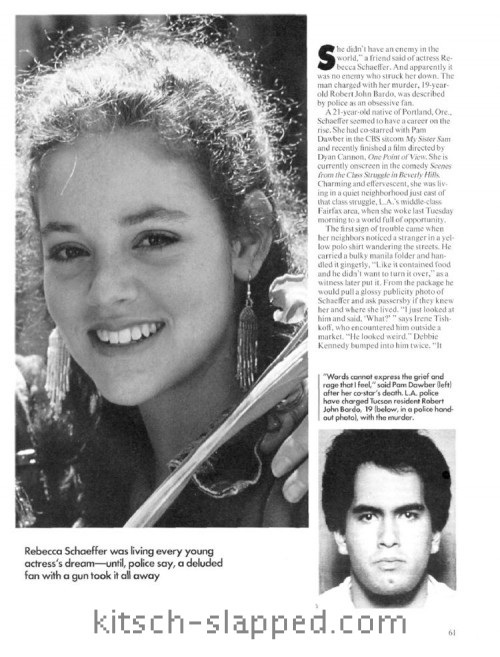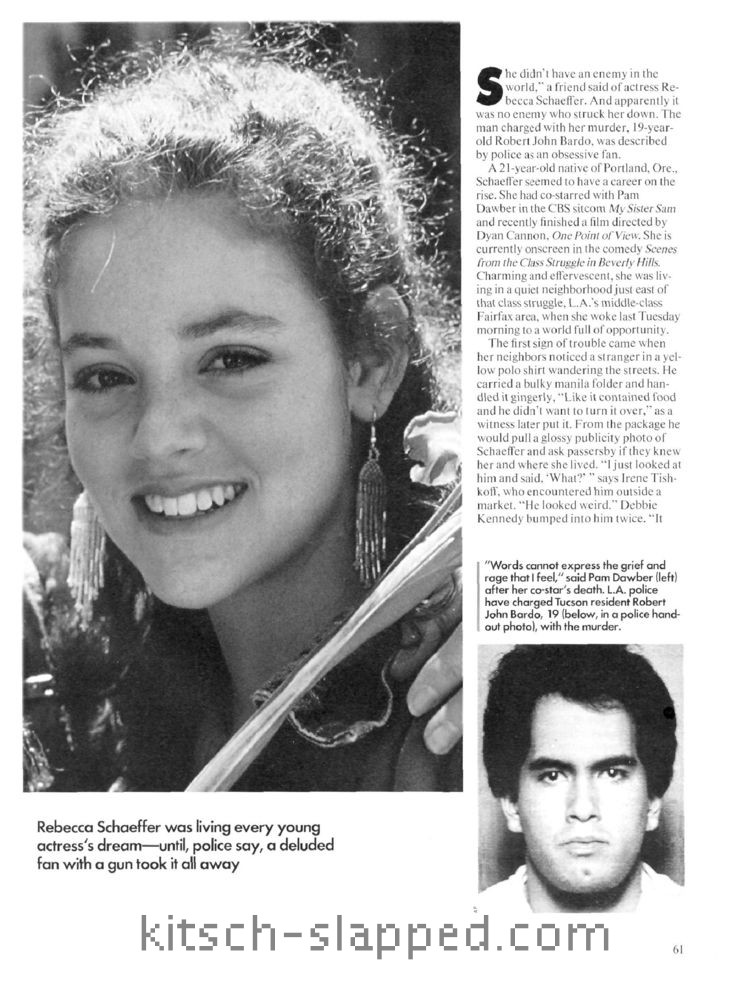 The majority of stalking, of course, occurs in the regular (non-celeb) world — and in the context of domestic violence or other situations involving everyday people the victims know. According to the National Center for Victims of Crime (NCVC) most recent fact sheet (August, 2012), the majority of stalking victims are stalked by someone they know, with 66% of female victims and 41% of male victims of stalking are stalked by a current or former intimate partner. When it comes to femicide:
* 76% of intimate partner femicide victims have been stalked by their intimate partner.
* 67% had been physically abused by their intimate partner
* 89% of femicide victims who had been physically assaulted had also been stalked in the 12 months before their murder
* 79% of abused femicide victims reported being stalked during the same period that they were abused.
* 54% of femicide victims reported stalking to police before they were killed by their stalkers
Now all 50 states, the District of Columbia, the U.S. Territories, and the Federal government recognize stalking as a crime; however well, or not well, police and other officials may respond, strides have been made.
Yet there is another huge unresolved issue that is brought to light with the murder of Rebecca Schaeffer: Rebecca was murdered with an illegally purchased handgun, but gun control has only gotten worse here in the USA — and by that I mean less gun control.
Since Rebecca Schaeffer's death in 1989, her mother, Danna Schaeffer, has remained consistent in her concern, saying, "I'm angry at the system that allows things like this to happen, that allows a deranged person to get his hands on a deadly weapon." Since then, Danna Schaeffer has lobbied and fought for sane gun control. In 1991, she went door-to-door at the Capitol lobbying for a ban on assault weapons and an end to the old gun show loophole on criminal background checks. She co-founded Oregonians Against Gun Violence (OAGV). And she continues to speak out today. But despite her actions and the actions of many, politicians still refuse to take necessary action to protect innocent Americans. What more we need? Why wasn't Sandy Hook enough? Why has public demand for gun control waned? Do we need a celebrity massacre to make us give a damn?
Today, on the anniversary of Rebecca Schaeffer's birth, let's not only remember her, but do something. Contact your legislators and let them know that you demand stricter gun control laws. Now Is The Time.