UPDATE 10/18/2014: I've a pair of the black Desperately Seeking Susan boots for sale in my Etsy shop!
Speaking of 1980's-Desperately-Seeking-Susan Madonna & boots…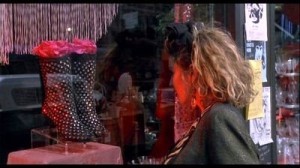 Fans of the film Desperately Seeking Susan will remember that the whole hullabaloo started when Susan (Madonna), trades in her fabulous jacket for a pair of boots spotted in the window at Love Saves The Day (the old, original location, not the new one in New Hope, PA) — and then Roberta (Rosanna Arquette) buys the jacket, gets hit on the head and, trying to discover who she is, uses the key in the jacket's pocket to open the Pandora's-box-of-a-port-authority locker, setting off a romantic comedy of mistaken identity. An entirely awesome film. Seriously. Just try not to enjoy Desperately Seeking Susan.
With the 80s fashion comeback, blah-blah-blah, how would you like to be so hip & retro it hurts and have these boots? (Frankly, back in the day, I wouldn't have been caught dead in them — too copy-cat, even though I was dressed as scandalously; but now those boots are kitsch-a-licious — now with added irony!)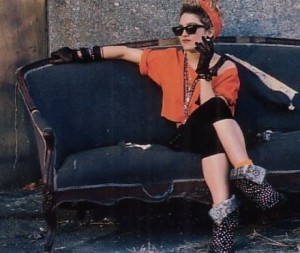 Bakers – Leeds owned the license to copy the boots designed by the film's Costume Design Assistant, Alison Lances, but Town & Country knocked-off a netting with sequins over vinyl version. Frankly, it would be hard to tell the difference, right?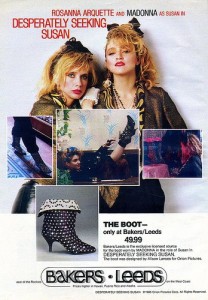 But good luck finding either of them — if & when you do, be prepared to pay several times the original $49. Yup, even for pleather.
However, crafty girls could likely figure out how to adopt this vintage hairpin lace crochet pattern to make the netted boot overlay and add sequins, right? (Click this larger image from MadonnaUnderground.nl to guide you.)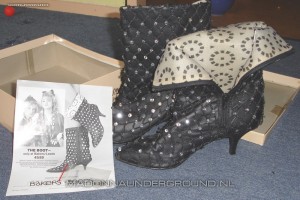 If rhinestones & shiny bling aren't exactly your thing, you can opt for more punk studs — no, not men with attitude; boots with stud decorations, dears. Alyssa Zukas AKA Two Sting Jane does — and she even shares how! (If that link doesn't always work — and it is wonky, giving 404s, try the DIY link and scroll; it's worth it!)
And, because what are shoes without the right handbag, why not make a purse version of the iconic skull suitcase.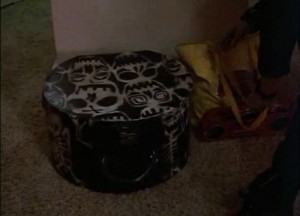 However, if you never ever would have traded costume designer Santo Loquasto's jacket for those boots…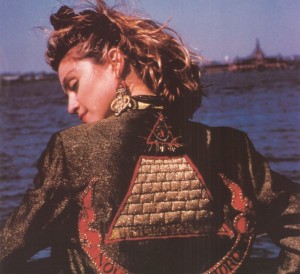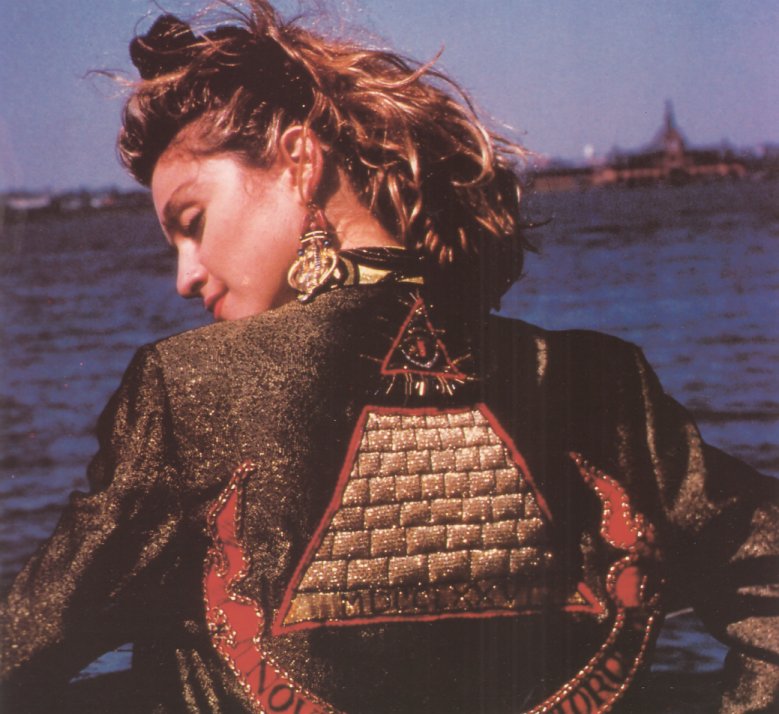 Well, copies of those jackets were licensed and made "retail available," just like the boots, and advertised on MTV.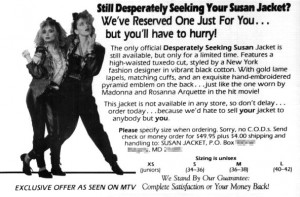 Made by Identity, Inc. &/or Creative Embroidery Corp. (I say "and/or" because both were marketed by Targeted Communications, Inc., so they could have been the same company.), the jackets have a hefty price — if & when you can find them.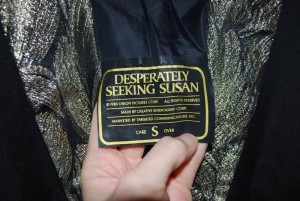 If you can sew or at least embroider, you can add the pyramid & eye, like that on a dollar bill, and the phrase "Novus Ordo Seclorum" to a jacket — just like Awsumgal did — sure, it's a doll's jacket; but it's the same steps, just a different scale.
So get crafty and create your own fashion homage to the 1980's that you so desperately seek. Aidan Quinn sold separately.