Consider it stuff I could have tweeted if I weren't so long-winded & too lazy to work within the 140 character limit; yes, you can take the title to mean the following are odd notes by the curator, or notes from the odd curator.
Upon donning my new bra, making adjustments & checking self out in mirror: Why aren't bras made in as many flesh tone shades as makeup — they are both the foundations of "beauty," right?
Eldest daughter is selling magazines for high school choir. Upon paging through the catalog & spotting Horse and Rider magazine: They should have Horse & Writer magazine… I still don't have a horse, but I've never outgrown my appreciation; I can't be the only one…
Reading to hubby the latest Tweet from @shitmydadsays. Post giggle, I say, "Ah, if only our dads abused & confused us more… Well, my biological dad probably would have, but he died when I was little." I would have added on a glib, "What's your dad's excuse?" but hubby's face but the kabosh on that.
And now what you've been waiting for… This week's Whatjamacallit Wednesday.
I found this in a box full of old pinbacks at a local antique shop — the pin reads "Menopausal Women Nostalgic for Choice."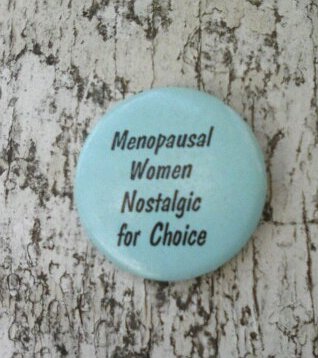 See, if you are crazy enough to diligently pour through the hundreds of things in a box or pile, you can find an awesome surprise.