A quick tip of my hat to Eliza at Bust Magazine's blog for pointing out what a hideous idea it is to make a a new younger version of the film classic Thelma and Louise. The train wreck, set to star Leighton Meester and Amber Heard, is titled Cowgirl Bandits — a title which certainly seems to sum up the producer's ignorance of just what is truly at the core of this film.
Adding to the inappropriateness Eliza expressed, it is, in my estimation, not simply a bad idea due to the celebs involved (for I don't view either as an actress anywhere near the likes of either Susan Sarandon or Geena Davis), nor is it a lament that classics ought to be left the hell alone (Did we learn nothing from the remake of The Women?!); no, the horror of this cinemacide goes far deeper.
What is sexy about this film (and I mean that in both the physical arousal definition of the word "sexy" and the intellectual turn-on implications of the colloquial usage) is the very thing they are undoing by attempting a "younger" version. A younger version of the film requires the characters be too young to believably have the character of the film characters.
At 20-ish, you don't have years, decades, of boredom and abuse in a marriage — and if you even have to ask how a relationship can be both boring and abusive, then you are the "too young" I speak of — so how can you be courageous enough to walk out of it, Thelma? Courage, after all, is measured by the ability to confront a situation aware of the risks, pain, intimidation.  (And how young would Brad Pitt's character have to be– 12?! Or in this hip young version, would she hook-up with an old dude, of say 40? A Brad Pitt role reprisal?)
At 20-ish, you don't have years of hiding out, sheltering yourself as you live in the quiet silence of a pretense that keeps you at arm's length from any respite, a deer perpetually in the headlights, exhausted from swallowing the injustice as you remain on guard for the next attack. So how then, can you react as you do, Louise? Without your years of suffering, how can there be a sympathetic policeman?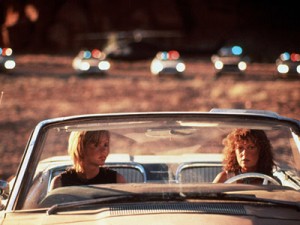 With this pitiful remake, there's no significant backstory for these characters because — and I know this will offend you young pups — because 20-somethings haven't lived long enough to have such a history, a history that they have both taken part in the creation of and struggled with for years.
Thelma & Louise wasn't about some willy-nilly drive into the vague liberation of third-wave feminism partying and screwing the way to a poetic fireball of justice; it wasn't a movie about women willing to die in the name of feminism. Thelma & Louise was far more complicated — sad and infuriating — because Thelma & Louise were fully developed characters with backstories. And they had to be older to do that.