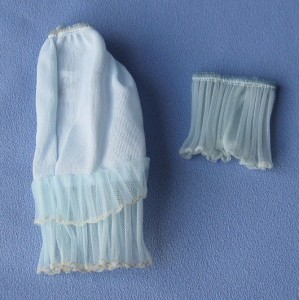 Because my first Barbie dolls had been my aunt's, I had a lot of the original stuff, including those (now highly collectible) palest blue whispers of chiffon pleated underpants. I remembered being struck by the incongruity of such angles — the square-ish lines of the boxy panties themselves and the triangular points of the pleats — against the round curves of plump plastic. As I slipped them over Babs' firm flesh, I wondered what her shape would do to the shape of those panties… Miraculously, some of the pleating remained when Barbie wore them — and in fact, the pleating was fully retained once removed from the doll. These were things I was highly suspicious of.
I wondered if those puffs of pleats remained beneath Barbie's outerwear… They weren't really visible; Barbie did not suffer from visible panty lines either. But like that refrigerator light problem, there was no way to see-to-believe, no way to really know.
While many blame Barbie for a plethora of society's ills, I'm not so convinced. I learned many things from Barbie, including, but not limited to, the pure impossibility of comparing myself to a doll (let alone coming up short in such a comparison).
Barbie was a doll, her movements were not only dictated & restricted by manufactured bendable knees & stiff elbows, but whatever limited movements Babs had could only be made at my whim. Her permanently arched foot did not relax when her shoes were removed, nor when she went to sleep. (This, I would learn years later as a department store sales person, was quite probably the most realistic thing about Barbie.) When I cut her hair, it did not grow back. Ever. When her leg popped-off at the hip, you could just press it firmly back into place; no blood, no guts, just the glory of fixing a problem yourself.
Barbie was not real and I knew it.
Her lack of areolas and nipples did not make me question the existence of mine. The enormous size of her breasts and their skewed proportionality did not make me question the size and proportion of my mother's bustline, that of any other female that I knew, or my own breasts when I developed them. Barbie's flat tummy did not make me question my plump belly or that of any other female; hers was hard unforgiving plastic, ours were flesh — as flexible, purposeful and forgiving as our arms. Our bodies existed for more than posing, for draping fabrics, for pretending. We are not dolls; we are a human.
Of course, as a child, I didn't exactly articulate these things to myself or anyone else; these were simply the lessons of play. (Are those the ingrained messages they want to protect children from?)
OK, so Barbie's hyper-beauty was unrealistic, so what? I had a brain. I was no more in danger from this fashion doll than boys who played smash-up with Hot Wheels cars were from driving like the world was a demotion derby they could just get up and walk away from. Kids can tell reality from pretend, especially when they have emotionally & intelligently available adults who answer questions and talk with them, not at them.
(This is not to say that Barbie, media images, etc. do not have an impact; but that's more a matter of a collective accumulation of messages. And I'll continue to pull at those threads.)
However — getting back to Barbie's pleated underwear, what started all this in my mind was spotting these vintage knife pleated panties.
In jadeite green and blushy-peach, they are color variations of Babs' fancy sheer knickers!
I instantly thought of the mysteries of those angles on Barbie's curves, of how I wondered just how real flesh would react with those pleats… Puckers & folds in your pants or beneath a slip-protected skirt, would they be there under your clothes? Or would your flesh fill them out, curves rubbing-out the angles? If they were there, what would they feel like? Would they remain when you took those panties off? Puckers & folds, those are usually considered imperfections — yet here they are, for living humans, not just dolls.
These vintage panties are beautiful little mysteries to me. And until I find a pair in my size, this is how they shall remain to me.