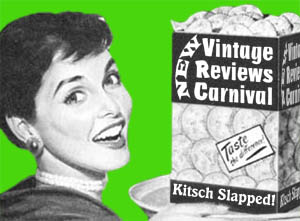 Welcome to the seventh edition of the New Vintage Reviews Carnival, where we review "old stuff" — from the classics to the forgotten — that is likely new to someone…
Films:
Jaynie discusses Spencer Tracy as a father on film in Father's Little Dividend over at Here's Looking Like You, Kid.
Yours Truly reviews The Adventures of Ford Fairlane over at Kitschy Kitschy Coo.
Cliff Aliperti posted Peter Lorre stars in MGM's Mad Love (1935) over at The Examiner.
Jaynie of Here's Looking Like You, Kid has a review of The Goddess. (I love this film!)
Cliff Aliperti on Warren William in Arsene Lupin Returns over at Warren-William.com. (Can you tell he's a Warren William fan?)
Books:
Kerrie reviews Why Didn't They Ask Evans? by the Queen of the Golden Age of Mysteries, Agatha Christie, at Mysteries in Paradise.
Yours Truly reviews Mary Stewart's Airs Above The Ground here at Kitsch Slapped.
At The Viewspaper, Surbhi Bhatia reviews the classic Rebecca, by Daphne du Maurier.
Alessia (of Relationship Underarm Stick) takes a quick look at the vintage fortune-telling book, Fortune-Telling by Cards — and you can find excerpts here.
Mee reviews Breakfast at Tiffany's: A Short Novel and Three Stories, by Truman Capote, at Books of Mee.
At Collectors' Quest, I review Magnificent Obsessions.
Surbhi Bhatia, of The Viewspaper, reviews Carl Sagan's Cosmos.
Monte Cook reviews the three original Dungeons & Dragons books at The Escapist.
Games:
In A Board Game Fit For a Suffragette, Thursday Bram reviews Pank-A-Squith, a suffrage-themed board game posted at Science of Board Games.
Yours Truly reviews the Dark Shadows' game, Barnabas Collins, here at Kitsch Slapped.
Etc.
Cindi Albright's What's in your Vintage Cookie Jars? (at Muggsey & Mae Vintage Collectibles) is an unusual review of cookie jars.
At VintageMeld.com, Cliff Aliperti reviews the 300 Piece Uruguayan Movie Card Set.
Honorable Mentions:
My old live-Twitter account of Night of the Lepus at Kitschy Kitschy Coo might fit your Halloween mood…
Hyde and Seek doesn't review games so much as present a visual museum of vintage Australian games, but it's cool to see!
There's also some "old books" in the 29th edition of the Book Review Blog Carnival I hosted — so check 'em out!
If you'd like your review to be in the next edition, please submit it (or one you've read) to the next edition of the blog carnival using the carnival submission form. (If you'd like to host the carnival at you blog, just let me know!)