I confess, I kill a lot of time just looking at the old snapshots and vintage photos at eBay. Sometimes I buy them, sometimes they inspire odd comments and random captions, and sometimes I become obsessive about them. This post is about a vintage photo I've become obsessed over: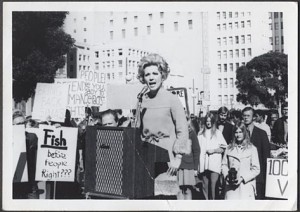 All the seller (Darrins-Photoclique) says of the photo is, "Vintage Photo Ruth Lee Speaking at Rally Protest" and that the photo's size is 3.5 x 5 inches; but I have no idea who the pretty blonde Ruth Lee is… And Google, searching for that name and with variations on "activist," "rally," "protest," is of no help either. So I take a good look at the signs in the photo.
I can't make them all out; only "Fish before people right???" is absolutely clear. But I try searches for "Ruth Lee" and "human rights" — with no success. I even try searching her name with the word "fish." (Don't laugh; if you ever become obsessed and desperate, I wouldn't laugh at you — with you, sure. But not at you.)
So I try to make out that nearly-white sign above the sign with the argumentative fish question. Looks like "Bring Back Simas." So I try that. Nothing shows up with her name, but I try "Simas" alone — too many results. So I try that name with "protest," and low and behold I discover the story of Simas Kudirka, a Lithuanian sailor who tried to defect to the USA on November 23, 1970. (That date fits the fashions in the photo far better than the seller's 'Pre-1950' categorization too.)
Being only 6 years old myself at the time, I knew nothing of this. Thankfully, Martha's Vineyard Magazine (2005) has a fine retrospective the newsworthy events and CapeCodToday (2007) covers the interesting historical connections and political ramifications — each worthy of reading.
The short story is this: The 40-year-old persecuted Simas Kudirka, a radio operator on a Soviet fish processing vessel, leaps onto the deck of a Coast Guard cutter. The vessels were moored closely together, about one mile off Martha's Vineyard, as folks were there for a day-long fishing conference attended by American and Soviet officials. Kudirka announces that he wishes to defect, but the Coast Guard, unsure what to do, goes up the chain of command until they are told by Ed Killham, the Soviet specialist, that they could fish a defector from the water — but he fails to add that they should keep him afterward. So when the Soviets forcibly come to get Kudirka, the Coast Guard lets him go. Bound and beaten, Kudirka is dragged back to his own ship, and the Americans are told Kudirka, if not already dead, will be so soon. The nation explodes in outrage, with plenty of press coverage and rallies — this is presumably where our photo comes in — and there are a number of international political issues as a result (Cold War and all).
You'll have to read the links to find out whatever became of Simas Kudirka; but I will tell you that in 1978 there was a made for television movie made about the incident, The Defection of Simas Kudirka, though there's currently no home release of the film. Something J.B. Spins laments — and while I may not agree with his views on Russia's plans, I think it's important to remember stories like this too:
These stories are important to study. They are not distant skirmishes from the War of 1812, but critical events of the defining conflict of most of our lifetimes.
I have my perusing of vintage photos to thank for the history lesson. However, I still have no friggin' clue who Ruth Lee is, or even where this photo was taken. If you have any information, please share it!