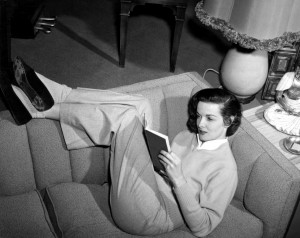 Welcome to the 29th installment of the Book Review Blog Carnival!
In order to keep this list a more digestible length (for those of us with short attention spans!), I've taken the liberty of moving a few of the entries to my monthly New Vintage Reviews Carnival (the latest edition of which will be was published on Monday). This was only done in the cases where bloggers had multiple submissions and there were reviews of older books. I hope this upsets no one; I was thinking of visibility/readability (and those 'bumped' to the other carnival get more exposure for their review efforts).
A Merry Heart: Jeanne (of Necromancy Never Pays) submitted her review calling the book "a kitsch Amish romance." This book is presumably (as Jeanne doesn't provide author info or link to buy the book), by Wanda E. Brunstetter; the first book in the "Brides of Lancaster County" series. (I have to admit that I have a giant perverse streak and so I read this good review about a bad book twice, laughing each time!)
Cleaving: Jessica (of Desperado Penguin) reviews Julie Powell's follow-up to Julie & Julia, a book about Julie's foray into the butchery business. (It may not be pleasing — topically or in terms of praise for Powell — but Jessica's review has it's own shining moments; a two word hint: "parenthetical asides." lol)
Code Orange: Nathan of Books For Sale? reviews a thrilling science fiction mystery by Caroline B. Cooney. (Apparently this epic of a boy' science project gone (potentially?) epidemic is classified as "Young Adult" fiction; but from the review, I'm interested!)
Dave Ramsey's Total Money Makeover: Jim Wang of Bargaineering reviews Dave Ramsey's flagship book on personal finance. (Check out the advice Jim dispenses along with his recommendation at the end of the review!)
Do-Over!: Azrael Brown's review of Robin Hemley's memoir of his attempts to give himself "do-overs" on the first 20 years of his life (going back to Kindergarten, etc.) is posted at Double-Breasted Dust-Jacket. ("Azrael Brown" is my husband, so I dare not comment! lol)
50th Law: Gene Simms of APMID reviews this book on how useless and restricting fear is by — wait for it! — 50 Cent (aka Curtis Jackson) and Robert Greene. (For those who, as Gene acknowledges, might say, "Wait what? 50 Cent wrote a book?" I strongly suggest this review. I'm pretty ignorant about 50 Cent and might have overlooked this review myself; but Gene's review is just the sort of book review I like to read and, merits of 50 Cent's book aside, the review itself is worth the reading.)
Foe: At The Truth About Lies, Jim Murdoch reviews J. M. Coetzee's supposedly true account of Robinson Crusoe as related by a woman, Susan Barton, who shared Cruso's last year on the island. (I love how Jim also shares what he learned from his particular copy of this book!)
4-Hour Work Week: DR of The Dough Roller revisits Tim Ferriss' book and philosophies. (Did he change his mind, or dig in more? Are there merits in re-reading books you didn't like?)
Gently Does It: At Mysteries in Paradise, Kerrie reviews the first book in Alan Hunter's British crime fiction series featuring Chief Inspector George Gently. (I particularly enjoyed Kerrie's inclusion of the author's foreword, which includes a classic disclaimer: "I hate being criticized for not doing what I had no intention of doing." That alone makes me want to get a copy and read it. Heh Heh)
In Xanadu: Surbhi Bhatia (of The Viewspaper) reviews William Dalrymple's travel memoir of a trip retracing Marco Polo's trip along old Silk Route, from the Holy Sepulchre in Jerusalem to the the summer palace of the emperor Kublai Khan in China, complete with vial of a vial of holy oil, as Polo did. (Included is an excerpt from the book which humorously exposes the difficulty of communication while traveling — and proves the book isn't some dry old thing.)
My Body Belongs To Me: At Motherhood Metamorphosis I review this book by Assistant District Attorney Jill Starishevsky (illustrated by Sara Muller), intended to be read to children 3-8 years of age to educate them about their rights to their own bodies and how to respond if someone should violate their rights.
Rapunzel's Revenge: Monkey Poop's Amitha Knight reviews this child's fairy tale in graphic novel format, by Shannon & Dean Hale, illustrated by Nathan Hale. (Amitha's excited — and it's catching!)
Red Sauce, Whiskey, and Snow: Christina M. Rau reviews this book of poetry by August Kleinzahler over at Livin' The Dream (One Loser At A Time). (Christina is both concise and amusing in her review.)
Requiem for a Paper Bag: Celebrities and Civilians Tell Stories of the Best Lost, Tossed, and Found Items from Around the World: Here at Kitsch Slapped I review an anthology of stories based on found paper objects — fiction & narratives collected, aptly, by Davy Rothbart of Found Magazine.
Strangers: Mee, of Books of Mee, reviews the novel-sized ghost story written, originally in Japanese in 1987, by Taichi Yamada. (Included are many links to additional reading which both supports and refutes Mee's opinions.)
Superfusion: How China and America Became One Economy and Why the World's Prosperity Depends on It: At ChinaBlog.cc, Jensen Liu breaks down Zachary Karabell's discussion of the geopolitical and economical interactions between China and United States as well as current world economy issues "from a unique angle." (Liu does an excellent job of breaking down the book into a digestible review — even as he challenges the author.)
The Age of the Unthinkable: Why the New World Disorder Constantly Surprises Us And What We Can Do About It: Clark Bjorke (founder of this carnival and blogger at I'll Never Forget the Day I Read a Book!) reviews this book by Joshua Cooper Ramo who, apparently, believes that things have recently gotten both much worse and much better in a whole new way. (I think it's quite, err, brave of Clark to confront & question, from time to time, an author who, as Clark admits, probably does hang out with Henry Kissinger. lol)
The Physick Book of Deliverance Dane: This novel of a 1991 college student's investigation into the witch hysteria in 1692's Salem by Katherine Howe is reviewed by EP of xoxoxo. (Might you be hearing more of this story?)
The Ruby Key: Over at J. Timothy King's Be The Story, a dad and daughter duo review the youth fantasy novel, which is a first in series by Holly Lisle. (And you get to see the 10 story related items the daughter collected for her show-and-tell "Book Bag" school project too!)
The She-Ra Collector's Inventory Guide: At Collectors' Quest I review the only book devoted to these retro action figures which were part of the Masters Of The Universe world. (No flying ponies needed to enjoy the review!)

White Nights: Over at Reactions to Reading Bernadette reviews the audio version of Ann Cleeves' second book in the Shetland Quartet series, crime fiction set in the Shetland Islands. (Among other things, Bernadette also addresses the issue of jumping right into a series at book two.)

Woman With Birthmark: This forth book in the Inspector Van Veeteren mystery series (by Hakan Nesser) was first published in Sweden in 1996 and has been translated into English (by Laurie Thompson) in 2009; it's reviewed by Kerrie at Mysteries in Paradise. (Kerrie's review includes info on the chronological order of translation v. publication, which will be of great use to readers of this long crime fiction series.)
Honorable Mention:
While James J. Gormley's Exclusive Interview with Dacre Stoker: Co-Author of Dracula the Un-Dead (over at Vampire Books Navigator) isn't a book review, it is worth reading (Halloween on the horizon or not).
The Book Review Blog Carnival is published every two weeks; here's where you submit your own book reviews for the next edition. I also will remind you that the New Vintage Reviews Carnival is a monthly carnival, open to reviews of books 10 years or older &/or those books which are OOP (as well as other vintage entertainment items) — I welcome your submissions!