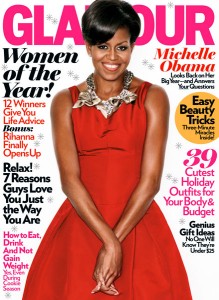 This November, history will be be made when — for the first time in Glamour's 70-year history — a First Lady will appear on the cover of the magazine. Michelle Obama not only will be on the cover, but she'll be honored with a Special Recognition award for her commitment to mentoring young women.
Included in the feature, some Q & A with the First Lady — including this bit of dating advice on assessing Mr. Right for the long-haul:
"Cute's good. But cute only lasts for so long, and then it's, Who are you as a person? Don't look at the bankbook or the title. Look at the heart. Look at the soul…When you're dating a man, you should always feel good," the First Lady says. "You shouldn't be in a relationship with somebody who doesn't make you completely happy and make you feel whole."
You can find out more at Glamour's blog.