Every female who has had to remind a male to look her in the eye (or at least her face) as opposed to looking at her breasts when talking to her — and that's a whole lot of us! — will find this item annoying.
In the October issue of Cosmo, Gossip Girl's Penn Badgley models this "winking" sweater by French Connection: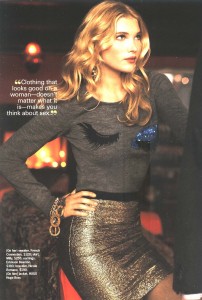 Do men really need to be encouraged to look at our boobs? Do they really need to be more confused about where to find out eyes?
The official name of the sweater is "Lush Lashes" — and while they may only charge you $128 to purchase it, the cost to women everywhere is much, much, higher.