I'm not sure
A vintage Ken Colgan cartoon: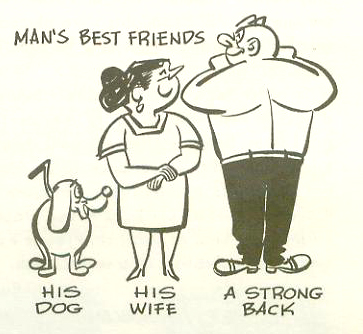 A man's best friends are his wife, his back, and his dog. The back, however, has a reputation of not being as faithful as his other two friends.
Well, at least women were considered faithful — even if they were compared to dogs and "things that work for men."
Care Of The Back, Industrial Edition
, William K. Ishmael, M.D., F.A.C.P. and Howard B. Shorbe, M.D., F.A.C.S., Distributed by Safety Department with Approval of Abbott Skinner, M.D., Chief Medical Officer, Great Northern Railway Company. Cartoons by Ken Colgan, Oklahoma City, Oklahoma.