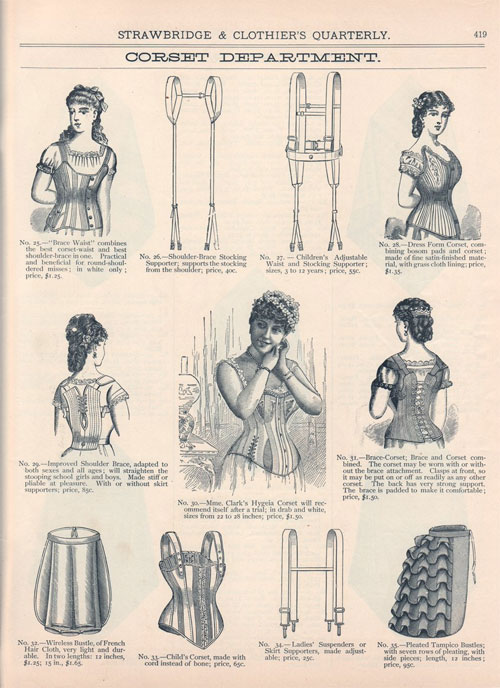 If you've been following along with my corset history workshop, you've read about the debunking of the science behind death-by-corset claims and seen some of the evidence why science and medicine was manipulated due to social hysteria; but what we are now left wondering is just how early feminists were swayed into backing the anti-corset science.
The answer, as always, is seen in context of the period. The Industrial Revolution saw a resurgence in Puritan ethics — urged on, whenever possible, by science, finding or leveraging particular strength in Social Darwinism. In The Debate Over Women's Clothing: 'Rational' or Lady-like Dress, Justina Rodrigues explains how fashion fit in:
After 1850 the racial degeneration argument was strongly argued by social Darwinists. They contended that fragile and "wasp" waisted women would generate a debilitated race. Women, as a result, could no longer fulfill their natural, maternal roles because of the pernicious habit of compressing their stomachs. Their histrionics went as far as to suggest that England would be filled with a new inferior race. <41> It was a widely held belief that the coarse working poor were in danger of taking control from the weak middle-classes. <42> Darwinists also argued that "rational" dress made a civilized and intelligent society; they claimed that anthropological studies of primitive cultures proved that "backward" and "barbaric" people wore meaningless ornaments like bangles, bracelets, earrings, and the like. These dress reformers argued that ladies' dress should evolve to the "superior 'rational' men's standard." <43> Mrs. E. M. King, secretary of the Rational Dress Society, was influenced by this trend. In her book entitled Rational Dress: Dress of Women and Savages she likened "savages" to fashionable women. <44>
Feminists were naturally drawn not only into science and social Dawinism, but regarding the matter of what Lelia A. Davis would, in her 1894 pamphlet, call "A Question Of The Day," the question of women's dress was motivated by three social changes:
The entrance of women upon work hitherto considered outside their sphere.
The higher education of women and the more common the dissemination of scientific knowledge.
Organization among women.
Naturally, suffragettes and feminists would question the fashions of their time, but they didn't all join groups such as the Rational Dress Society. Justina Rodrigues again explains:
The movement for women's rights was loosely associated with the Rational Dress Society. Feminists agreed with doctors, social Darwinists and conservatives that lady-like dress was unhealthy and implicitly immoral, but differed in their views on restricting women within the boundaries of the home. Prominent feminists who were more concerned with women's rights did not make dress reform their major cause. Indeed, Josephine Butler-by far the most well known Victorian figure of the women's rights movement-was always immaculately lady-like in her dressing. <61> Mrs. Butler, being a product of the Victorian age, although a woman ahead of her times, could have been a believer of the mainstream Victorian notion of respectability in lady-like clothes. On the other hand, like Emily Davis, founder of Girton College, Mrs. Butler was concerned at being stereotyped as one of the "shrieking sisters" — loud manly looking female activists. <62> Some of the arguments that feminists made were that in order to achieve equality of the sexes, male sexual appetites should be controlled and lady's fashion should be less distinct from man's. Others stressed looking attractive as opposed to looking sexually attractive [an ambiguous directive, one might say]. <63>

The Rational Dress Society did not gain a large following and efforts by dress reformers saw pathetic results. ….Lady-like dress did not yield to critical ideology but rather prevailed in its own right.
Corsets were an early form of body modification, temporary cosmetic surgery, providing women breast augmentation and liposuction in the waist and stomach area. However, while it's easy to blame corsets for holding stomachs in as well as holding women back, it's clearly not that simple.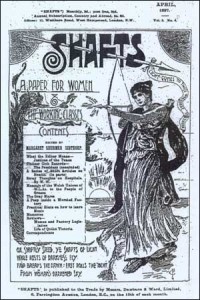 The prevailing science that feminists wished to lean on was bad — and likely motivated by fear-based beliefs directly opposed to feminist ideology. The early feminists were living in a misogynist society, they were held by patriarchal stays which used the corset to control and interpret female dangers — including the dangers of women encroaching into male spheres via male modes of dress. Who wouldn't want to cast off the corset, at the same time shirking the psychological shackles that the very debates conformed to? And what male wouldn't prefer she literally stay in her place?
Ultimately, however, the female identification with (and desire to conform to) beauty standards was clearly stronger than any of it. And while the fact that corset boning lead to marital boning is largely a biological imperative, that sound science is, by-and-large, currently not accepted by today's feminists.