While I do not suggest that women should whittle away our waists as we while away our days in the constriction of too-tightly-laced corsets, I do believe there is good reason to at least examine the claims and assertions made about corsets by the 19th century medical community and the suffrage movement.
But if the medial claims weren't true, if they were as exaggerated as the corseted female form, why?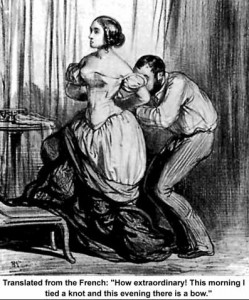 While many state that Victorian fashions for women were used as a means of control (and admiration through objectification) of women in a male dominated society, there is evidence to the contrary. In fact, many in 19th century, responding to fears of poverty and moral decay brought about by the Industrial Revolution's over-crowding of cities, cried in outrage over the corset — but they saw the corset as impure and promoting impure behaviors among women (ever responsible for all of societies ills).
Victorian phrenologist Orson S. Fowler, an American, warned that wearing a corset excited dangerous "amative desires" by pressing blood to bowels. In Intemperance and Tightlacing, he argues that this made blood become "impure and corrupt," caused "disease to the brain," and inevitably led to "impure feelings" as "weak-minded" ladies were, obviously, easily prey to temptation. Illustrations mocking the too-trusting, if not cuckolded, husband conveyed such possibilities.
Perceived as (and raised to be) innocent, Victorian women on pedestals were void of any "animal feelings" such as sexual love, but this "special nature" made her a trusting, giving and warm person which, combined with her lack of intellect, made her not only prey to sexual seduction, but once introduced to such 'sins' she would be insatiable.
Such views of women convinced Victorian professionals that corset wearing led to such sins as hyper-sexuality and masturbation. In A Textbook on Sex Education (London, 1918), Walter Gallichen wrote:
The early wearing of stays is said to cause precocious sexuality. When it is known that a degenerate cult of tight corset wearers exists in England with a journal devoted to their craze between tightlacing and sex hyperaesthesia [heightened feeling] seems to be well established.
Ahh, so now the corset wasn't just about seducing men, but ourselves. We were deemed dangerous dames because, poor things that we are, we're too weak to resist sexual desires. We'd easily fall for any man, any time, any where. Worse yet, what if we opted to masturbate?! Men, as always, feared our ability to make choices. (In truth, what need do multiple-orgasmic creatures have for inconsiderate three-huffs-and-puffs-to-climax lovers who seek to control us?)
So, just how would you stop a corset-wearing woman from screwing around and diddling herself? Well, you get her out of that corset by any means possible — including scaring the crap out of her with exaggerated (or completely falsified) science.
According to this article on the brothers Lucien C. and I. DeVer Warner, founders of Warner Brothers (now Warnaco) knew the power of medical alignment selling foundation garments:
It took a couple of doctors to sell women on the idea that "rearranging" the human body via the old-fashioned corset was not practical. Doctors Lucien C. and I. DeVer Warner put their heads together and came up with a corset to fit a woman's body, unlike other Victorian undergarments which "tied" her in.
They weren't the first to sell corsets with doctor names, but they were among the first in the U.S. to push the "new" corsets; I'm sure it was made all that much easier (and profitable) with medical science telling those frightening anecdotal stories of death by too-restrictive corset.
Just where did the feminists fit into all of this? Well, that's for part three.