I know you're probably sick of Jon & Kate + 8 talk, but…
I just don't get why people keep on calling Kate Gosselin the bitch when it's so obvious that Jon's a passive-aggressive jerk. Well, I got it at first; passive-aggressives always make the other person look like the bad guy — and that public perception combined with the private hell that is living with a passive-aggressive spouse will drive you crazy. It truly is a special kind of hell.
I know; I've lived it.
And I wish people — especially now that they know all the BS Jon's done (the dating, the spreading rumors about Kate, the complete self-absorption) — would just stop blaming Kate.
I'll admit that I've been a fan of the show for years, but I've been complaining about Jon since I first saw it. In fact, that's why my husband often won't watch the show with me; he hates to hear me bitch about how lazy Jon is, about how Kate has to plan & do everything because Jon can't or won't initiate anything that's not about his selfish needs.
Arg! I really dislike that man — and those like him.
So when I spotted this at a rummage sale recently, I had to snap it up. The vintage metal trivet, now on my wall, reads, "If more husbands were self-starters the wife wouldn't have to be a crank."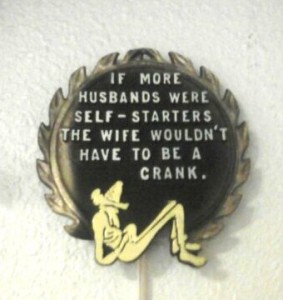 It's funny because it's so true.
And serves as a little reminder of reality for all who enter my home. But Kate, if you want this, contact me and I'll send it to you, darlin'. I am so understanding of & sympathetic towards you & your position.