In response to my Gadabout post (about a vintage composition dog), Laura (of Doodle Week) said, "I really like how you know all this stuff about old things and how they were made. But how do you manage to keep all these collections without running out of room for yourself?"
Well, Laura, here's the painful truth: Occasionally I sell stuff.
I don't like to do it — it does actually pain me. But sometimes, in the continual space battles that collectors face (both living space and the empty space in your wallet — spaces you & your spouse must agree on!), selling items is the proverbial poo that happens.
In this case, hubby (shown here miserable that I'm not only buying another one, but that he's forced to carry it lol) was right that I had no more room for using another wastebasket…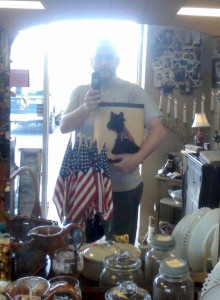 So I'm selling this retro metal waste can with a huge, adorable, Scottie dog on it — despite my deep affection for vintage metal waste cans.
I console myself not only with 11 more inches of space and the extra bills in my wallet, but by imagining the thrill such a find will be for the new owner — who will melt every time they see those warm brown eyes, that black plastic nose, and that red felt tongue.