I have a modest collection of vintage vanity items. (My collection and I have even been featured in Collectors News magazine.) And indeed, I've often wondered about the vast popularity of Rachel as a powder shade. I'd rather believed the hype that this particular shade was named after a popular actress at the time — but in Antique Personal Possessions, Silvia Druitt gives another possible reason:
In the very limited colour ranges obtainable then and up to the 1930's, one frequently finds the colour Rachel. This takes its name either from the actress of that name, or, more probably, from a certain Madame Rachel who set up a Salon in New Bond Street, London, in 1863, and had a great success. Alas for her many clients, most of whom wished to keep their visits dark, her most lucrative profession turned out to be a sideline in blackmail. After mulcting many, she ended her career as a beauty specialist in prison.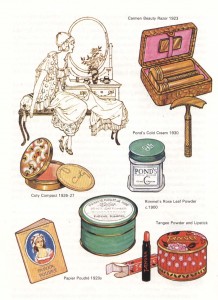 The blackmail was possible because at that time, colored cosmetics were not for ladies, only for prostitutes and/or actresses — the latter of which was equally reviled and in fact, the words 'actress' and 'whore' were synonymous to many.  This whore/Madonna beauty thing is partly why I began collecting/studying such things, so how intriguing to discover Madam Rachel!
For more on Madam Rachel, I send you to Madame Rachel: Beautiful for Ever at Victorian History, and to Internet Archive for The extraordinary life & trial of Madame Rachel at the Central Criminal Court, Old Bailey, London : on the 22 23, 24 & 25, September, 1868. (If the link doesn't work; search Archive.org for "Madame Rachel at the Central Criminal Court" and you'll find it.)
I now eagerly await the publication of Helen Rappaport's Beautiful for Ever: Madame Rachel of Bond Street -Cosmetician, Con-artist and Blackmailer for more information on this woman who spurned society and spawned so many powdered faces.