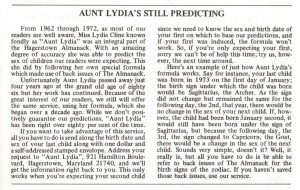 I found the following gem in the 1977 J. Gruber's Hagers-Town, Town and Country Almanack, along with the usually almanac-ery, household tips, and a few grand ads (that I'll be showing off later). It's a prediction method for pregnant women to discover the gender of their baby.
In case the name Aunt Lydia sounds familiar, this is not the Aunt Lydia from The Handmaid's Tale who was responsible for teaching the enslaved women called "handmaids." (The movie adaptation is where I first fell in love with Natasha Richardson, may she rest in peace.) This Aunt Lydia was Miss Lydia Cline, "a retired practical nurse who lived in and around Hagerstown," whose method of prediction was heralded to have "an accuracy of over 80%!"
Even though Aunt Lydia had passed away in 1973, the almanac's 1977 proclamation was to ensure readers that they could still accurately predict the gender of unborn children — under the following conditions:
Here's an example of just how Aunt Lydia's formula works. Say, for instance, your last child was born in 1973 on the first day of January; the birth sign under which the child was born would be Sagittarius, the Archer. As the sign did not change but remained the same for the following day, the 2nd, that year, there would be no change in the sex of your next child. If, however, the child had been born January second, it would still have been born under the sign of Sagittarius, but because the following day, the 3rd, the sign changed to Capricorn, the Goat, there would be a change in the sex of the next child.
(One assumes you'll need the astrological information as provided in past issues of this almanc
; for those of child bearing years, who want more recent issues, check the official Hagerstown Town and Country Almanack website. The article also notes that the simple formula does not work with a first child, nor for induced or Caesarian delivered births.)
If only author Margaret Atwood had known of this Aunt Lydia and her prophetic equation… With such knowledge, the gender of babies could have been more than divined, but planned.
It may not have prevented Gilead from increasing the number of gender-crimes (for that's how, you'll remember, women were forced into becoming handmaids) or otherwise improved the lot of women, but it would have raised other interesting avenues of thought.
However, Hagerstown's Aunt Lydia and her formula were incorrect regarding my second child. Not sure if that signals failure on the part of Aunt Lydia, a missing part of the prediction formula retained to secrecy, or if, per the usual, I am just relegated to the position of minority.