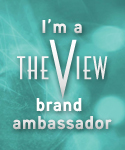 Last week I became an official View Brand Ambassador, part of the Mom Central campaign for ABC Daytime. This means you'll be hearing more from me on The View and while I will receive a tote bag or other The View branded items for &/or to facilitate my commentary &/or reviews, I'm really excited to have the opportunity to participate in the discussion about and promotion of one of my favorite shows — yup, one of my favorite shoes, not just a daytime favorite.  It doesn't hurt that we're supposed to get some face or ear time with show producers either.
In short, being an ambassador for the show means I now have a legitimate reason to watch shows uninterrupted and a larger motivation to talk about them too.
So consider this post a disclaimer — and warning of things to come, both here and at my other blog, Motherhood Metamorphosis. (Heck, it might even show up at other places, depending upon the topic!)
If you're a fan of The View, right now Mom Central has an exciting contest: The View Sweepstakes. The prize for one lucky winner? A trip to New York City to watch a taping of The View! The sweepstakes is open until February 28th and I encourage you to enter — but I hope I win!
PS If you join Mom Central, befriend me here!