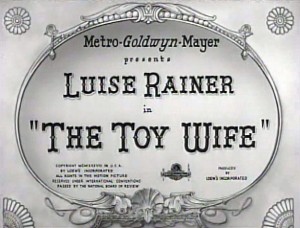 I don't think I can let Black History Month go by without mentioning 1938's The Toy Wife.
Primarily the movie is the story of Frou Frou (played by Luise Rainer), a woman found to be so guilty of a frivolous nature, so childlike in her approach to life, that she must suffer the wrath of The Motion Picture Production Code (aka the Hays Code or Hollywood Code). But I think any woman or thinking man who watched the film will see that others are not only guilty of perpetuating her frivolous nature, but of exploiting it as well — especially those who claim to love her.
In many ways, Frou Frou, the character, reminds me much of Norma Jean Baker, or at least the creation of Marilyn Monroe… A woman literally and figuratively corseted by the studios to be "feminine charms personified," who was then resented and mistreated by the very persons who had shaped her. (Any feminists reading here likely can feel the echoes of such things in their own lives.)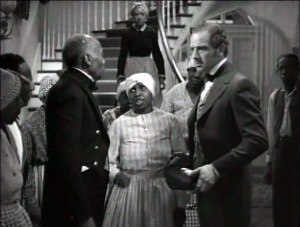 Jaynie's done a great job in her review of the movie, so I'll leave it at that and get onto the other thing to note about this film: the racial issues.
Heck, slavery and racism are so prominent in this film that it's used as proof of Frou Frou's poor frivolous and immature state.
Her inability to manage her household and slaves leaves her poor husband dealing with bickering slaves; leaving us to conclude that Frou Frou is so childish, she cannot even manage the childish Negros.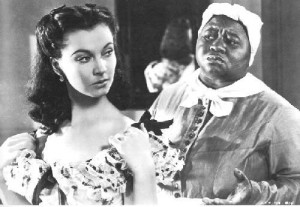 Sure, The Toy Wife is a period piece set during the Civil War on a plantation — with all that implies. But unlike Gone With The Wind, The Toy Wife shocks with insights into the treatment of slaves.
We see the traditionally accepted sanitized version of supposed mutual devotion and affection between master and slaves, both on individual bases and and in groups — such as when the mistress of the household stand on the magnificent steps of her plantation mansion and leads the slaves in prayer.
We see Frou Frou slap her slave, something which tells as much about the immediate situation straining their close relationship (you know how women are so willing to slap one another's face when we get peeved *snort*) as it depicts slave relations.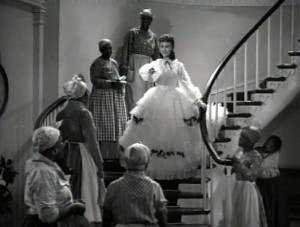 But we also see and hear family slaves threatened with whippings and being sold, the rather nonchalant pronouncement of such things by white folks punctuates their manipulation and mastery of human beings — exposing the very same frivolous, spoiled, childlike assumptive behavior that Frou Frou is charged with.
But perhaps most shocking is the story of Frou Frou's devoted personal slave. Played by Theresa Harris (more here), this slave hasn't any name — they just call her "Pic" (or "Pick") short for pickaninny.
We discover this supposedly amusing fact when Frou Frou returns home after years away, being schooled abroad. One by one the female slaves identify themselves — including both Maries who individualize themselves as "Brown Marie" and "Yellow Marie." You will see and hear it in this YouTube clip (at roughly 37 seconds) but Pic's story, which should immediately follow once the young woman is spotted beneath the stairs, has been (curiously and infuriatingly) omitted.
http://www.youtube.com/watch?v=5DUso6KmQlQ
So while The Toy Wife offers a sad story of womanhood, it also offers an historical slice of southern pie that's hard to swallow.
But you should watch it. It's a wonderful film, capturing so many moments of truth… Even if a lot of them are ugly and painful.