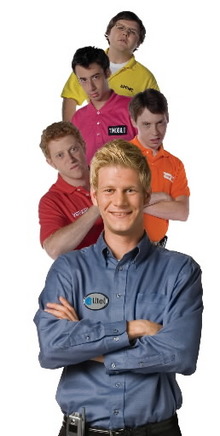 A few months ago we switched to Alltel. I love my LG Touch phone, but the other day I had a problem with text messages (a long story) and needed to call for help. You'd think this would be simple, but it wasn't.
First I had to get another phone so that I could poke, prod, etc. my LG Touch per their directions; then I had to find the number to call. Going to Alltel.com was discovering the first FAIL:
They require you to enter your zip code to get the "offers" in your area before accessing anything on their site.
Since I'm already a customer — a customer with a problem, no less — this is an unwarranted frustration. To help you, here are Alltel's numbers:
Personal: 1-800-alltel1 (1-800-255-8351)
Business: 1-888-4AT-BIZZ (1-888-428-2499)
Once I call, go through all the prompts — including entering the digits of my Alltel cell phone — eventually reaching the place where I get the prompt to speak to a person. "Hip-Hip-Hooray!" right?
Wrong.
Once you press (or say) that magic number, Alltel forces you to agree to one of those satisfaction surveys. "Press 1 if you'd like us to call you back in an hour or, if you've called after 9 PM, call you back after 9 AM tomorrow, on the number you are calling from; or press 2 if you'd like us to call you back in an hour or, if you've called after 9 PM, call you back after 9 AM tomorrow, on your Alltel phone."
Wait a freakin' minute.
I have to agree to a "How satisfied are you?" survey before I even get any help?!
WTF!
My already frustrated brain was certain that my transfer to a person had been lost and that the system had bumped me ahead to the post-call recording.
I mean, why would they hold a customer hostage like that?
But I angrily spit-out the vocal response and was finally patched-through to a human, a human who — yes, you guessed it! — made me give my Alltel number out again before she could/would help me.
I get that we live in an age where everything has to be as automated as possible because even outsourced jobs cost more than robotic voices and technologic routing. I get that data is at a premium in your competitive business. I get a lot of things about business — your business, and business in general.
But really, Alltel, do you have to hide your contact information?
Do you have to add more layers of insulting behavior to the process, holding human interaction (the very essence of the wireless business) hostage to the tune of promises a frustrated customer must keep?
All of this is like layer after layer of frustrated-icing on a bullshit cupcake.
Here's a business tip you obviously don't know, Alltel: It is cheaper to retain a customer than to go out and get a new one.
You don't retain customers by keeping contact with you at bay, especially when they are already frustrated and calling customer service. So take that advice and stick it in your circle.