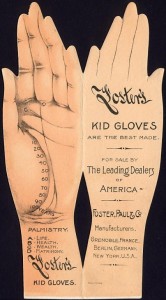 Hey, that conference I'm presenting at, the first annual Bookmark Collectors Virtual Convention, has been written up in the Seattle Post-Intelligencer. Which reminded me that I had not mentioned the event here, pestering you to attend. So, here it is, "Will you please attend the convention?"
I think there's still some free commemorative bookmarks available, so check that out before you register.
And, in case you missed it, here's my story about incidentally collecting bookmarks: When I Was A Child, I Bookmarked As A Child (Or, Seeking The Perfect Bookmark).
Image Credits: This bookmark advertising Paul Foster & Co. kid gloves also features palmistry; it was submitted to the convention's gallery by Laine Farley.