Since I love old beauty tips and their cultural context, I was intrigued by A Slip of a Girl's posts sharing clippings from the March 1831 issue of Atkinson's Casket (aka The Casket).  In that same issue, found via Google Books, I found this great article on painting on glass — but I wanted more.
In another issue, from 1832, this incredible review of Frances Trollope's Domestic Manners of the Americans
(1832):
Mrs. Trollope has treated America with the same liberality, and her success in depicting the character of our people, has been nearly as great as captain Hall's. An unsuccessful speculation in Cincinnati, awakened, it appears, the indignation of Madame T. and she forthwith—with the assistance of the notorious Fanny Wright, with whom she travelled, and whose abominable doctrines she appears to have imbibed—resolved to glut her revenge by writing a book. No doubt she is now satisfied, for she has the pleasure of seeing it stated in print, sanctioned by her name, that the Americana are the most illnatured, ungenerous, wicked, illiterate and vulgar people on the face of the earth ; that their moral sentiment is less elevated than that of the savages, and that the half-horse and half-alligator population of the Mississippi Valley, are as uncouth and as barbarous as a nation of Ourangutangs.

Mrs. Trollope, however, certainly unwittingly, pays American ladies, a very high compliment. Having fixed upon the society of Almacks as the criterion by which to examine the character of our ladies, she finds that they are all utterly destitute of polish; of that easy, lady like deportment, by which English ladies are distinguished throughput the world, and entirely ignorant of those amiable accomplishments in maneuvering, &c. which give her own countrywomen so strong an influence over their husbands. Our ladies are too modest in their behaviour and dress, to meet the views of Mrs. T. ; in company they want loquacity ; they seldom visit theatres; they arc respectful to their husbands, and indefatigable in instructing their children ; they are but indifferent dancers, and speak Italian shockingly incorrect ; and finally they are not carried away with foolish and ridiculous fashions. All these are serious faults in the opinion of the immaculate Trollope, and she vents her spleen at them in no measured terms.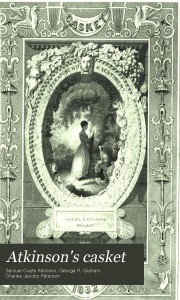 Trollope's sentiments seem very much to echo those of this article from 1907 — so much so, that I double-checked that Trollope was indeed deceased in 1863. However, as this article, titled British Cockney Writers, shows, this apparently was quite the trend during this period.
Included in this issue of Atkinson's Casket are some excerpts or "extracts" — of which I found the following quite amusing:
The ladies have strange ways of adding to their charms. They powder themselves immoderately, face, neck, and arms, with pulverised starch; the effect is indescribably disagreeable by daylight, and not very favorable at any time. They are also most unhappily partial to false hair,which they wear in surprising quantities; this is the more to be lamented, as they generally have very fine hair of their own. I suspect this fashion to arise from an indolent mode of making their toilette, and from accomplished ladies' maids not being very abundant; it is less trouble to append a bunch of waving curls here, there and every where, than to keep their native tresses in perfect order.

Though the expense of the ladies' dress greatly exceeds, in proportion to their generalstyle of living, that of the ladies of Europe, it is very far (excepting in Philadelphia) from being |n good taste. They do not consult the seasons in tne colors, or in the style of their costume; 1 have often shivered at seeing a young beauty picking her way through the snow with a pale rose-colored bonnet, set on the very top of her head: I knew one young lady whose pretty little ear was actually frost-bitten from being thus exposed.— They never wear muffs or boots, and appear extremely shocked at the sight of comfortaole walking shoes, and cotton stockings, even when they have to step to their sleighs over ice and snow.

They walk in the middle of winter with their poor little toes pinched into a miniature slipper, incapable of excluding as much moisture as might bedew a primrose. I must say in their excuse, however, that they have, almost universally, extremely pretty feet. They do not walk well, nor, in fact, do they ever appear to advantage when in movement. I know not why this should be, for they have abundance of French dancing masters among them, but somehow or other it is the fact. I fancied I could often trace a mixture of affectation and of shyness in their little mincing unsteady step, and the ever changing position of the hands. They do not dance well; perhaps 1 should rather say, they do not look well when dancing; lovely as their faces arc, they cannot, in a position that exhibits the whole person, atone for the want of tournun-. and for the universal defect in the formation of the bust, which is rarely full, or gracefully formed.
PS Apparently this had all been previously published in The Saturday Evening Post; the connections between and history of The Casket and The Saturday Evening Post are well documented here.