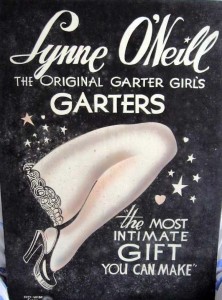 When I spotted this post at Slip of a Girl's lingerie blog, I thought I had remembered something about the former burlesque star, "The Original Garter Girl," Lynne O'Neill…
Sadly, it was that she'd passed away recently; her estate sale was held October 9, 2010, in Hempstead.
Along with the dearth of personal items from O'Neill's estate, a lot of memorabilia is up for sale at eBay
— but none more fascinating to me than this collection of several thousand of letters
listed by Jeff's Paintings Books Music Stuff
.
The seller's description is as follows (yes, they wrote in all caps, etc.):
UP FOR AUCTION IS AN ARCHIVE, CONSISTING OF SEVERAL HUNDRED PIECES OF CORRESPONDENCE FROM MEN – ALL FROM THE MID 1950'S – RESPONDING TO PERSONAL ADS THAT LYNNE O'NEILL PLACED IN NEWSPAPERS. THE MEN ENCLOSED AS LITTLE AS A DOLLAR FOR PHOTOS OF LYNNE O'NEILL, HOWEVER, SOME PAID SIGNIFICANTLY MORE FOR UNDERWEAR (NOW AVAILABLE ON EBAY FROM OTHER SELLERS), GARTERS, MOVIES, AND RISKE MATERIAL.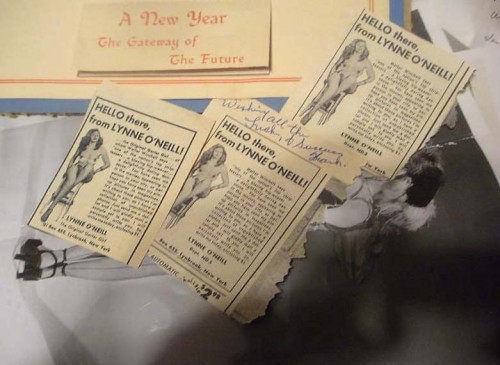 MANY OF THE LETTERS ARE DETAILED AND LENGTHY. SEVERAL RUN SIX PAGES OF LONGER. A FEW LETTERS ENCLOSED PHOTOS. ONE GUY THOUGHT HE WOULD IMPRESS LYNNE WITH A PHOTO OF HIS GAS STATION. OTHERS DISCUSSED THEIR MEETING LYNNE, AND THEIR RECEIPT OF A LETTER FROM LYNNE. ANOTHER DREW PICTURES OF LYNNE/ IT REALLY IS AN AMAZING ARCHIVE, OF AMERICAN LIFE IN THE 1950'S. MEN ASKING FOR HARD CORE PHOTOS IN VEILED TERMS "YOU KNOW WHAT I LIKE" AND SEND ME PHOTOS OF YOUR "BUTTERFLY". (I DIDN'T EVEN KNOW WOMEN HAD BUTTERFLIES). THERE ARE LETTERS FROM DOCTORS, PHARMACISTS, SERVICE MEN. EVERYONE CLAIMED TO HAVE A COLLECTION OF "ART PHOTOS". IT REALLY WAS AN ASTOUNDING VIEW OF LIFE IN THE 1950'S AND HOW THEY DEALT WITH SEX AND PORNOGRAPHY. ALSO INCLUDED ARE CUTOUTS THAT LYNNE PLACED, AND A FEW PHOTOS (NOT IN GREAT SHAPE) THAT WERE IN THE BOX.

I AM ALSO ENCLOSING A 1956 CALENDAR OF LYNNE O'NEILL
Dear Santa, if I could have but one wish this year…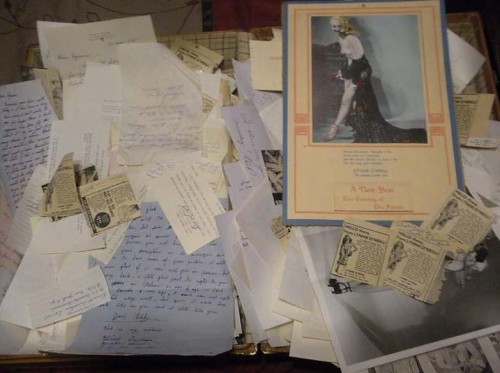 It's unlikely that I shall receive a windfall to equal the sum requested ($399.95 or "best offer) — or that if I should, that my husband would let me "invest" the tidy sum in such ephemera (though if you cared to give me the funds, or purchase the collection for me, it could be our little secret!), but I certainly covet it.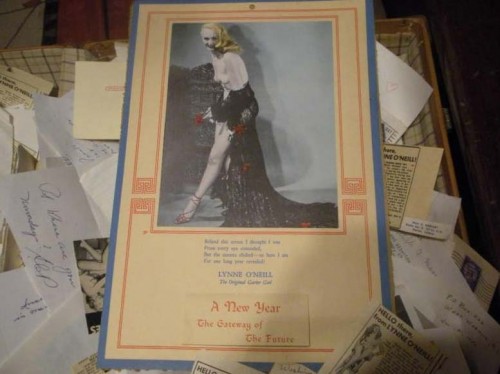 The idea of reading such intimate letters based on risque celebrity — from the Every Man to The Ultimate Woman — is so delicious I dare not ponder it any longer lest I click and buy it and end up with no way to pay rent.
*heavy sigh*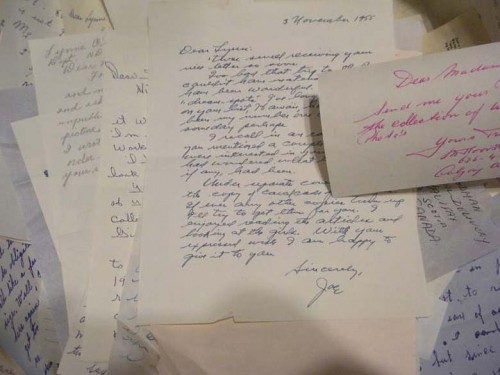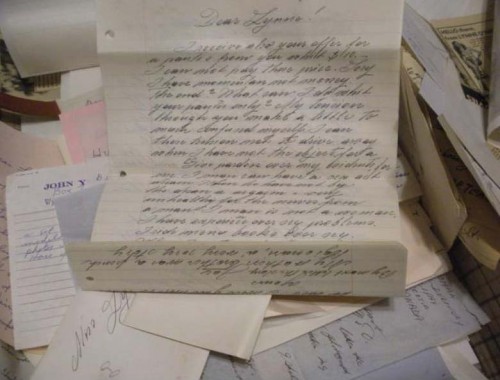 But aside from whining about my lack of discretionary income, aside even from waxing on about the insightful poetry of male psyche left in such an archive, I mention this for other reasons.
As a collector and a dealer (for yes, I deal in and sell collectibles as well as hunt, buy, research and write about them), I find something else fascinating about this auction listing; from the first part of the listing:
OVER THE NEXT SEVERAL WEEKS, YOU WILL SEE A LOT OF LYNNE O'NEILL ITEMS ON EBAY. SHE RECENTLY PASSED AWAY, AND HER ESTATE WAS LIQUIDATED. MANY OF THE ITEMS OFFERED WERE AVAILABLE IN LARGE QUANTITIES, AND TO THE ESTATES CREDIT THEY REFUSED TO JUST GIVE IT AWAY. THEY HIRED INDIVIDUALS THAT UNDERSTOOD THE HISTORICAL VALUE OF ITEMS IN THE HOUSE, SO ITS UNLIKELY YOU'LL BE ABLE TO BUY IT SUPER CHEAP ON EBAY. THAT IS, UNLESS THE MARKET IS FLOODED, AND EBAY IS NO LONGER A VIABLE OPTION FOR THE O'NEILL MATERIAL. I DON'T EXPECT THAT TO HAPPEN THOUGH, BECAUSE WHILE THERE WAS A LOT OF ITEMS BY THE STANDARDS OF A SMALL COMMUNITY, I THINK THE NATIONWIDE DEMAND WILL FAR OUTWEIGH THE SUPPLY OF WHAT WAS AVAILABLE, AND PRICES WILL CONTINUE TO RISE.

THIS PARTICULAR ITEM, HOWEVER IS UNIQUE. NOONE ELSE HAS IT, AND NO ONE ELSE CAN OFFER IT TO YOU ON EBAY OR OFF.
Sellers of collectibles and dealers of antiques often find themselves in the place of rationalizing or even defending their actions — including pricing items for sale.
It's a sad reality based on people's ignorance and, yes, selfishness; they feel that dealers are somehow taking advantage of the folks they buy from and the folks they sell too. Never mind that dealers must be knowledgable enough to invest in what they buy and must wait for what they hope will be a return worthy of that investment — plus whatever other fees accrue while waiting for that sale. It's not easy-peasy-lemon-squeezey.
Further proof of dealer defensiveness lies in the Q & A published at the auction listing:
Q: Dear Jbg and the estate, I have 41 years experience buying at and conducting estate sales in the Hempstead area.The people who ran Elaine/ Lynne sale are very nice people, with expertise in about 33% of the items they sell. These are priced correctly. The others are triple and one third of what the correct wholesaleish/ liquidation selling price should be. This puts them in the top echelon of tag sale services. Most of which are completely incompetent and clueless. Believe it or not these are the most successful ones as hordes of people will come days ahead and wait to take advantage of their stupidity. JBR Oct-12-10 A: I think they ran a great sale, with fair prices. I've read what I've written several times, and don't think its negative. Its just my observation that people aren't going to get things super cheap on ebay, because they were priced correctly at the sale. That's a good thing. The tag sale people work for the estate, not for the buyers. I'm certain that they maximized the estate's dollar. Others either would have priced to high , and not sold a thing or priced to low, and given it away. Q: That statement you made about the Estate of Lynne O 'Neill is not completely true the Estate hired a 15 year experience antique and collectible specialist and the Estate is now meeting and will examine what transpired. So i highly suggest you Edit your statement about the estate sale Do you have a receipt for what you paid for to prove you paid alot in comparison the what you are selling your item for? Sincerely the Estate Oct-12-10 A: I think my statement is intended to mean that the Estate did not give things away, which is to the credit of the folks who ran the sale. Most folks would have sold the calendars and signs for a few bucks a piece to get rid of them, and then they'd be flooding ebay at $5 a piece. I don't think that's going to happen. Not sure what the panties sold for, but unless the folks running the sale failed to comprehend what they were (and that seems unlikely) they weren't a dollar item. Sincerely, the customer.
I find it rather unprofessional that the eBay seller would feel the need to explain how the collectibles market works; even if under the guise of education (the interested collector will be more interested in provenance and price than an economics lesson), and odder still that the estate company would misread the auction listing so badly (of course, perhaps we're reading an edited version?). But the fact remains, dealer are so harassed and worried about their reputations, they are willing to air more dirty laundry than the panties worn by a former pinup queen.
I just wish there was a way to use all of this to my advantage; rather anything to end up with this collection of vintage burlesque ephemera.