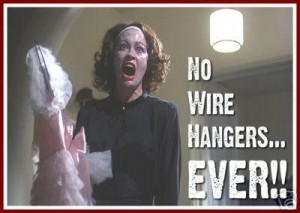 I'm invoking the name and memory of Joan Crawford to make a plea for those of you in the US to take action against those who would force women to face the wire hangers of the past.
You must realize that the wealthy will always send their sisters, daughters, wives and girlfriends to other places for safe, legal abortions — even while they seek to deny the rest of us the rights to such "padded hangers." So even if an abortion is against your morality, if it's not a choice you could make, recognize the rights each of us has to make our own choices — safe choices which allow for the right to have future children, rather than render ourselves infertile (or worse) by seeking alternatives.
The women are already here, already have rights. Let each woman choose. If you believe it is against God's will, then let him hand down the decree; you don't get to play God in the name of preventing others from doing so.
Take action today.
Help Stop the "Stupak on Steroid" Agenda and Sign The Petition to stop the GOP war on women's health.