Jim Linderman presents this original court document from Williamsport in Lycoming County, Pennsylvania, dated June 3, 1884 in which Mrs. Susan Johnson was arrested and charged with being "addicted to scolding," including the habit of using profane, vulgar and abusive language." Given that, it seems obvious — or odd, depending upon your parenting views — that Mrs. Johnson also instructed "her children to insult, abuse and injure children and persons in general."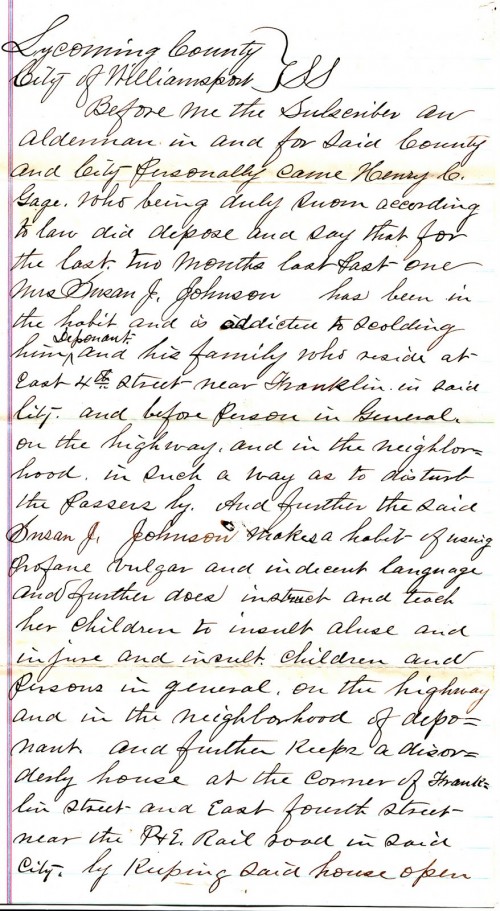 At the bottom, or second page, of the court document, it is also noted that Mrs. Johnson dared to keep her business establishment open on Sunday, "the Lord's day" — in violation of Blue Laws.
Me thinketh the open store, the audacity of a woman to make money on the sabbath, was the real problem.
But I'm a biased feminist.
In fact, without anything else to go on, I daresay Mrs. Susan Johnson was a strong woman, an independent woman with her own business. One who didn't tolerate crap from anyone and was raising her children to do the same — in a time and place where women were like children and so should be seen and not heard.
But I have no proof of this.
According the arrest warrant, Mrs. Johnson had to pay bail in the amount of $200…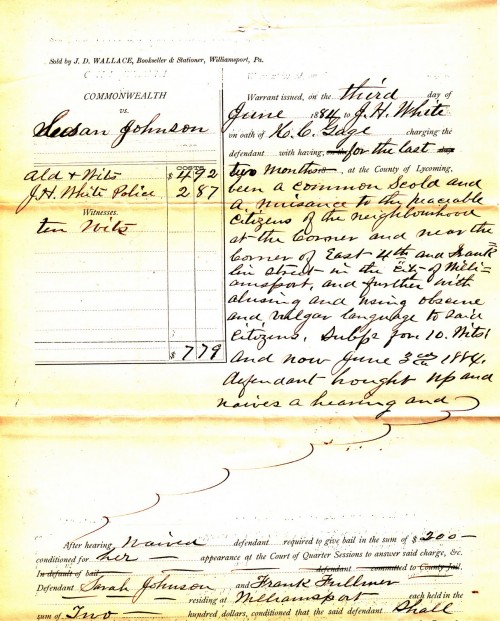 Despite my best attempts at research, I could not find any report of how the court story ends. However, it appears that poor Mrs. Johnson died shortly after tornadoes struck and leveled her house along with several others — "not a timber left standing" — according to a newspaper story in the Daily Gazette And Bulletin, Williamsport, Pennsylvania, on February 23, 1884.  I can't be absolutely certain this is the same Mrs. Susan Johnson, but it's the only trail I could find. Rest in peace, Susan.