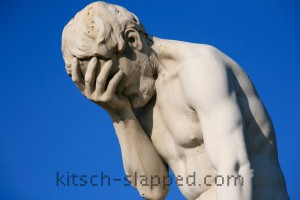 Sometimes, when looking at the current state of affairs, I find myself asking, "What decade is this again?" If you sometimes feel like our society is moon-walking backwards in time, you're not alone.
Take, for instance, the fact that it's illegal to buy and sell sex toys in some American cities! Sandy Springs, Georgia is in the center of a recent HuffingtonPost.com article that highlights the ludicrous city ordinance that deems "'any device designed or marketed as useful primarily for the stimulation of human genital organs' obscene material, and prohibits their sale, unless 'a bona fide medical, scientific, educational, legislative, judicial, or law enforcement purpose' exists."
Talk about the dark ages!
This ordinance has forced one resident, Melissa Davenport, to go through the insulting process of getting a sex toy prescription from her doctor. You see, Mrs. Davenport has multiple sclerosis, which impacts her ability to have enjoyable sex. She needs the help of sex toys to make sex with her husband pleasurable. "The ordinance," she said, "basically says the government can stick its nose in your bedroom… It's appalling. I just think it's ludicrous."
And it is.
Civil rights buffs might be reminded of Lawrence and Garner v. Texas, the landmark 2003 Supreme Court decision, which declared it unconstitutional for the government to have any say in what goes on in the privacy of one's bedroom. In this case, it was a couple of men enjoying consensual sex.
And yes, this ruling does seem to apply to Mrs. Davenport's case. It certainly did in 2008 when a federal appeals court struck down a similar ban on sex toys in Texas. According to NBCNews.com, the opinion of the court was that "the case is not about public sex. It is not about controlling commerce in sex. It is about controlling what people do in the privacy of their own homes because the state is morally opposed to a certain type of consensual private intimate conduct. This is an insufficient justification after Lawrence."
Phil Harvey, president of Adameve.com, one of the plaintiffs in the case, spoke of the company's plans to expand sales in Texas to include home parties. Previously, the company had been hesitant to pursue this because of the Texas law.
At the time of the ruling, there were two other states with sex toy bans on the books—Alabama and Mississippi. Since then, Mississippi's ban has been lifted, but Alabama's inexplicably remains.
There's reason to be optimistic, though. And maybe Melissa Davenport of Sandy Springs will soon be able to see light at the end of the tunnel. It sure seems like a no-brainer, both constitutionally and rationally.
The fact is, sex toys have been around just about as long as human beings have been having sex. According to Alternet.org, archeologists have excavated numerous wood and stone dildos dating back to the Paleolithic era. It's even believed that Cleopatra might have invented the first vibrator—a hollowed out gourd filled with angry bees!
If it seems completely asinine that there would be bans on sex toys in the twenty-first century… Well, just imagine what Cleopatra would think!