Sometimes history is thought of as it is taught: In separate chunks. But history passes, weaves, and certainly is attached and connected to time — the time behind it, the time before it, and simultaneously to persons and events which, even in attempts to understand and reclaim, we have neatly severed into subjects and categories.
History and culture isn't simply a matter of dates or compartmentalized periods. The subject of context isn't merely one for writers, bloggers or content curationists, i.e. photo or image with research or text story, properly credited, for real readers. Context is even more than the object, person, or event in cultural context of what came before it, what came after it. Context must include what and who are contemporaries.
For example, do you think of opera legend Marian Anderson and artist Frida Kahlo as contemporaries? As friends even? Most probably do not.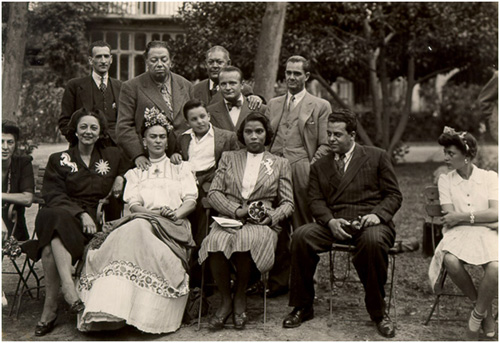 [About the image: Marian Anderson and Frida Kahlo with Diego Rivera, Miguel Covarrubias, Rosa Covarrubias, Ernesto de Quesada and others in Mexico, 1943.
More astonishing than this photo which went wild on Tumblr is the video.
The video is silent home film footage of that same trip, from the Penn Libraries Marian Anderson collection, A Life In Song, use of and upload to YouTube approved by Nancy M. Shawcross, Curator of Manuscripts, Rare Book & Manuscript Library, University of Pennsylvania on June 19, 2012.]
For in our (admirable) attempts to reclaim lost stories of Black Women and Hispanic Women (groups who have felt marginalized from Feminism and Women's Studies), separate stories emerge. Separate stories may narrow focus, provide an ease for our brains (which many falsely claim are over-stimulated and bombarded with information; information overload is a myth) tasked with absorbing information, but so many separate stories not only lead to false notions of separate lives issues (which fosters a sense of competition, risks alienation, and further divides what is Us), but removes the full complex beauty of cultural context.
Oxford University historian Dr. Cliff Davies, in his discussion of the myth of the Tudor era, describes this compartmentalization of history as "seductive" and helping "to create the idea of a separate historical period, different from what came before and after." I say this seduction also includes the temptation to remove the context of contemporaries. And that it ought to be avoided. Even in an age of working to create filtered focus.
Even when you have multiple blogs, collections, and curated topics — each with its own focus, there is likely to be some overlap between them. If you are aware of and include context with your collections, there will be, ought to be, some repeated content and objects across collections. Even those with the most dedicated focus.
I consider this to be not redundant overlap but more connections, yet another layer to your stories. Practically speaking from a marketing approach, it is another way to find more readers too.
And another way to blow their minds.