In the 1920's and 30's, a boy dreamed of owning a horse, and of being a writer. Encouraged by his high school teacher, he wrote every night after dinner for an hour. He worked on his book through high school and continued as an undergrad at college.
In 1940, his book was finished, and Random House was going to publish it. The editor told the author, "Don't figure on making any money writing children's books." The author disagreed, saying "If you can write a book that will interest children you can make a living."
His first book was an instant hit when it appeared in 1941, and it developed it into a series — even a fan club. This series has sold over a hundred million copies in the last 60 years, and even inspired several feature-length films in recent years. The author had proved his point well.
The author was Walter Farley, and that first book was The Black Stallion.
The Black Stallion was so successful, that Farley had enough financial security to quit school and travel around the world. Though flooded with an avalanche of requests for sequels to his book, being drafted into the service during WWII to work as a government reporter during the war, prevented the release of the next book. A few years later, he met & married his wife, and he settled down. Because of the success with the first book, Farley wanted to write full time, and told his editor of his desire. This was the response from Louise Bonino, Farley's editor, in a letter dated February 8, 1945:
"Your desire to devote yourself exclusively to writing after the war is perfectly natural, but I know of only one writer of teenage books who has managed to come pretty close to what you're after. Even he admitted to me once that if he were to depend on book royalties alone, he wouldn't be able to support his family. The last thing in the world I'd want to do would be to crush an extremely worthwhile ambition, but I would feel remiss both as a friend and as a publisher if I didn't caution you to do some careful arithmetic before you decide to burn your bridges."
In October of 1945 the wartime restrictions on publishing were lifted and Farley released his second book, The Black Stallion Returns, to immediate success. Soon the royalties were enough that the Farleys had no concerns about making ends meet.
I have no doubts about the editors' sincerity in their cautious statements — I've made similar statements myself to authors from time to time. (Heck, I've even pondered if we'll make a living being publishers.) But Farley is an inspiration.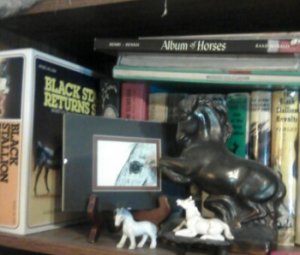 When speaking in classrooms, libraries & at book fairs, Farley often shared his philosophy that you can make a living doing what you love best, or doing something related to it. He took his two loves, writing & horses, and put them together with hard work, making his dreams a reality. Along the way, he inspired countless readers, certainly some horse owners, many authors, more than a few filmmakers — and he inspired this publisher.
At the time of his death, Farley had received over 500,000 letters from fans, and his books remain popular generations later. It's a wonderful legacy for an author. But Waler Farley the man has an even larger legacy: one of imagination and inspiration for all.
"I don't think kids are encouraged to use their imaginations," said Farley. "Imagination can help you reach into the heavens to grasp an idea, bring it down to earth, and make it work."
Now those are words to live by, to write by, and yes, to publish by.
Thanks, Walter.
NOTE: This is a rerun or "classic" post I am resurrecting from an old dead site ;)