You (and I) can talk about the difficulty of finding fashions that fit women 'til we're blue in the face. But if a picture is worth a thousand words, then these vintage Berlei lingerie "Figure Type Indicators" can save us some breath — and thereby our complexions, right?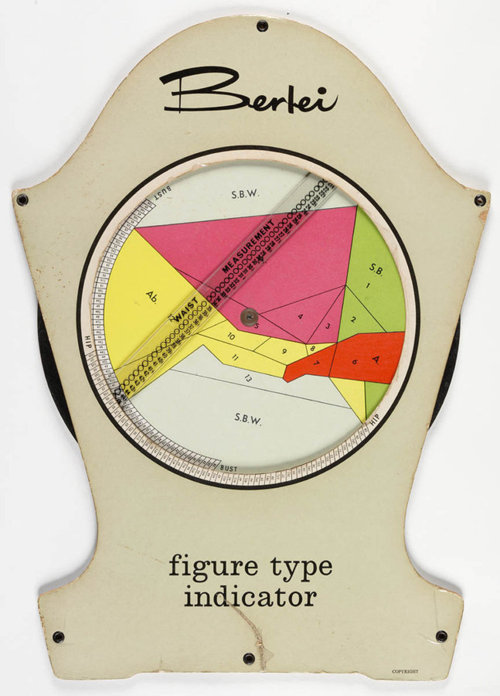 These "Type Indicators" were like slide rules for the female form, used to assist in the proper fitting of foundation garments. I'll let the Powerhouse Museum, where I found information in and additional images in their Berlei collection), explain:
It enabled a fitter to determine the client's precise bust, waist and hip measurements so that she could be fitted with a foundation garment. The chart featured a moveable disc for indicating bust measurement and a moveable pointer for indicating waist measurement. Hip measurement sizes were printed on the border surrounding the moveable disc. An instruction sheet with illustrations was pasted onto the back of the chart and is headed, "How to Use The NEWMAN – BERLEI Type Indicator".

Overall the chart is very similar to P3645-28/2, Berlei's first version of The Berlei Type Indicator, with some slight variations. The names for the five body types vary slightly, in this case "Type L.H (Large Hip) Type S.B. (Sway Back) Type L.A. (Large Abdomen) Type A (Average) and Type S.B.W. (Short Below Waist)", as do the colours for the silhouettes and corresponding areas on the moveable disc. They are pink (Large Hip), green (Sway Back), yellow (Large Abdomen), orange (Average) and grey (Short Below Waist). On the instructions sheet it also states that clients would need to consult the P.N. Fitting Guide.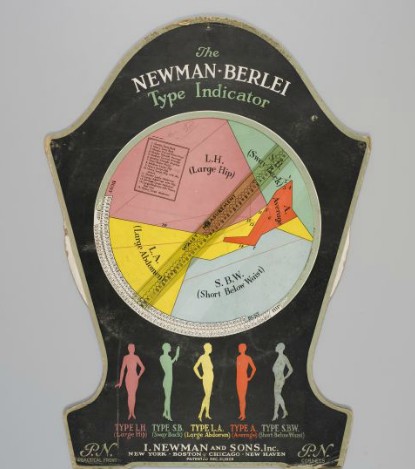 While the curator at the Powerhouse mentions an earlier version — and by collection artifact number (P3645-28/2), I could not find it on their site. However, I think the point about the complicated nature of fitting the female form has been made. Even if you simplify all women down to five types.
And say what you will about these five types of women's bodies; they are better than the usual foundation garment fit guides which list us by age and wear, i.e. "matronly." Should you require proof of that too, let me know and I'll see if I can stomach scanning those. (Heh, "stomach" a girdle post.)
Meanwhile, enjoy the eve-olution of Berlei's foundation garment fitting tools over the decades.
PS Based on info at the Powerhouse, I think the first measuring tool (via), is the 1960s Australian version.