Over at (one of his) sites, Dakota Death Trip, hubby posted this fabulous old ad. While you might think it's an advertisement for a woman, Clara Kimball Young, it really is promoting a film, 1920's The Forbidden Woman (not to be confused with 1948's Forbidden Women, which allegedly stars women recruited from a Los Angeles whorehouse).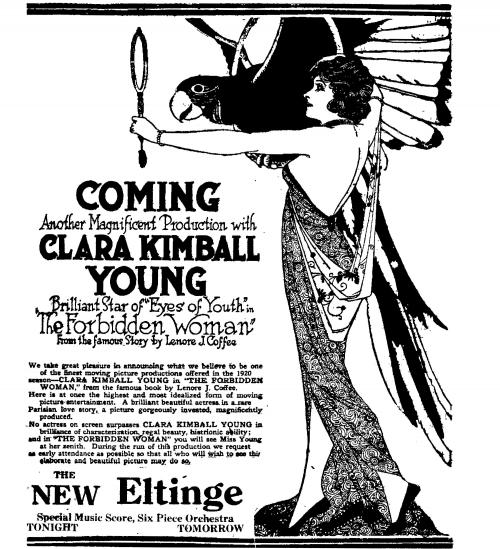 Why is Clara Kimball Young such a focal point? Because back in the day, women ruled the box office!
As I wrote in my review of Mick LaSalle's Complicated Women: Sex and Power in Pre-Code Hollywood (my review is fine, but NWS ads in sidebar):
In the 20's and early 30's women dominated at the box office. Women were the biggest stars, featured month after month on the covers of fan magazines (it was a rare month indeed when a male face turned up on the cover!), and society was fascinated with women in general.
If you're curious about the historical role of women in and out of film, how they once held all the power and how it was taken from them, read LaSalle's book.  And then read Movie-Struck Girls: Women & Motion Picture Culture After the Nickelodeon, by Shelley Stamp. (Here's my review.)
Also related, my post on female celebrity pitch women at the turn of the (last) century: Julia Marlowe, Selling Stuff From Head To Toe.