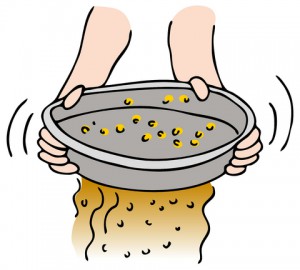 There's a lot of talk about content curation; but is anyone making money?
I'm sure some are making a few bucks… But big profits? So far, probably not. Will it? Let's take a look…
When it comes to potentially profiting from curating online, there are three main groups:
1) Software/site creators — those who have built, hoping the people come. These folks have invested time and money in the venture adventure, and some of them are charging for their services. Much like those charging for blogging software and/or hosting, it remains to be seen whether or not curators will pay for such services — and in enough numbers to pay for the developer investment.
2) Companies and individuals selling the products, services, and content being created. So far, this is the group seeing the greatest rewards. While numbers and margins are murky, it's clear from the investment and funding dollars that big business believes (or hopes) curation will be the future of brand and product promotion.
3) Curators themselves. This group is last on the list for two reasons. First, they are the base on which this whole business is built; without them, no one is paying for curation sites/software or curating the products, brands, and ideas that corporations are counting on. And second, curators are apparently last on the list in terms of consideration.
Despite the fundamental importance of curators, they currently have relatively no means of making money from curating.
By and large, there are no spots for advertising on content curation sites. Not only are there no means by which the curators themselves may edit pages to place advertising, but the curation sites themselves are without their own advertising, so there's no option for profit sharing between curation site and individual curators. This doesn't necessarily preclude the possibility of curators being bought. Other than, perhaps, the difficulty in contacting a curator, what's to stop a curator from accepting payolla, putting a dollar value on a "curated" link like many bloggers do with paid posts?
If you think this lack of built-in monetization will keep curators honest in their curation — that they'll do it for the pure passion and love of it all, you are naive. Curation is a commitment. Without the prospect of money, only a few diehards and crazies (such as myself) will bother to curate and then it will be as time and inclination allows. That is not the steady stream of "superhero" curation that enthusiasts are predicting.
Without advertising options, how are are content curators are going to make money? In order to make money directly from curating (i.e. curators are not merely pushing their own products, services, and/or sites that they have monetized), it will need to be because people are going to pay for curated content, because companies are going to pay for curators to push profits for them (via payolla or paid curator/marketing positions), or some combination of the two.
But will people really pay?
So far the evidence says, "No."
Curation really isn't anything new. Curation is, if not exactly the same, a lot like blogging; and we all know blogging isn't a sure-fired, self-supporting, money-making activity. Not that it necessarily should be. I mean, some guy's playlist isn't necessarily equal to that of a radio station DJ — and it's not just a matter of audience numbers either. Quality and importance — perceived or real — also matter. The low barrier of entry to self-publishing and self-producing comes at a cost to the entire media marketplace. Value perception (heavy on the "values" for the growing confirmation bias tendencies) is ironically at the heart of this supply and demand issue of this new Information Age. For example, how many mixed tapes have you actually purchased?
Image via 123 Stock Photos.