Morning Joe is a show that continues to frustrate me. A recent example, Joe Scarborough's comments on Romney's rudeness to moderator Candy Crowley during the second presidential debate:
One, you don't run over a female moderator. You just don't. Stylistically you don't. It's very dangerous. Jim Lehrer, fine. You can get out a knife and, you know, have a knife fight with Jim Lehrer, fine. But you don't do that with a female moderator. It's problematic.
This from a man who continually interrupts and talks over his co-host, Mika Brzezinski. In fact, the nearly-incomprehensible-he's-so-hypocritical Scarborough tromps over Brzezinski so often that I've theorized Brzezinski's contract limits the number of syllables she may utter, making Scarborough's rudeness of interjecting "I, I, I" a mere dotting of the fiscal "i"s to limit her speech. But it's the poor theory of a woman amazed as she watches such perpetual rudeness. You keep it classy, Scarborough.
Scarborough also mocks "Binder-Gate", completely missing the point of the reaction to Mitt Romney's "Binders full of women" statement. Which is exactly what the tap-dancing Romney was trying to do. Romney want's to hide his record, his stance, his very negative attitude towards women. It's not the ill-phrased statement made by the perpetually awkward Romney, but the very negative scenario he was attempting to illustrate as a positive.
Let me spell it out for you: We don't want to hear about binders full of resumes from qualified female candidates — which were given to you, not sought by you, Romney. We want to live in a world where hiring women, at equal pay, is common practice.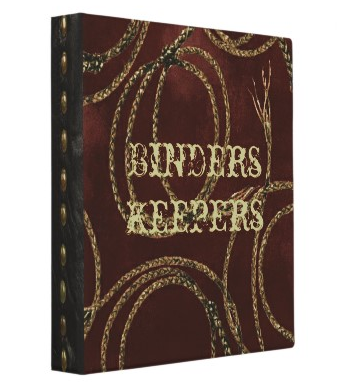 Mitt's binder comment exposes the gender gap in terms of employment, wages, and benefits. Here, the binders represent keepers, exposing the sexist values of binding and keeping women in their place, which is, of course, beneath men. Holding women back, holding women down, limits and hurts families and our nation as a whole. And we know it.
Romney, Scarborough, et al., they seem to be mistaking fact for fiction, mistaking the female fantasies of sexual submission a la Fifty Shades for real world desires to be held down economically. While these guys substitute fiction for fact, we are not confused. We see them for what they are: Liars and anti-feminist.
To commemorate 2012, how about this Western-print binder featuring rope, customized with the words "Binders Keepers". You can fill it with all the news stories this year.