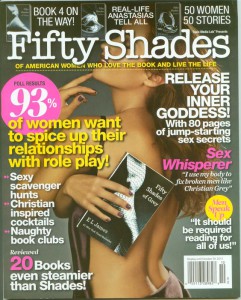 When I spotted the cover of the Fifty Shades magazine leering at me from it's in-your-face product positioning in the check-out lane at a local grocery store, I immediately broke out into a grin of disbelief. Here? In Fargo, North Dakota?! How utterly fabulous!
In a world where human sexuality is taboo — and women's rights to have it is steadily shrinking, I was so giddy with the mere idea of the magazine sitting on display so blatantly, so defiantly, that I pounced on a copy. And unable to contain myself, I dared to speak aloud.
"I bet you've seen a lot of these leaving — and with old ladies like me," I said to both the male cashier and the bag boy precisely at the moment the cashier was scanning the publication.
The cashier managed to avoid eye contact and comment via hyper-focus on his check-out duties. The bag boy, caught off guard, looked to see what I was speaking about as it was handed to him and he awkwardly, loudly, replied, "Umm, we must have just got these in; I haven't seen them before now." Followed by profuse blushing as his brain caught up with what his eyes were reading.
It was rather anticlimactic.
Even though I'm not sure what I was expecting or hoping for.
But if buying this magazine was anticlimactic, it was a major disappointment to read it.
Filled with pages of uncredited "articles" which were so bland it would make the much disliked and even hated Cosmo seem intelligent, Fifty Shades just left me feeling sad, yet again, about the sad state of magazines for women.
In Underwary, feminist platitudes serve to bolster mocking men — while focusing primarily on male pleasure: "It's your body," "Men don't understand lingerie," "He will blow it," "Instead of letting him navigate the world of satin and lace all alone, surprise him and say you're going shopping together. He'll think you look great, you'll feel great, and everyone will benefit. (But mostly him.)"
Oh, and don't forget to exercise and diet too.
Because it's important for women to focus on their appearance even during fantasies.
*heavy sigh*
Now, I've never ready any of the 50 Shades books, so as an ethical reviewer I can't say anything about how "true" the magazine is to the "steamy series". But that won't stop me from having an opinion — an educated opinion — regarding the reaction to the books.
As a woman, I've not only taken a rather long road to my own personal sexual discoveries and satisfaction, but along the way I've uncovered and pondered our historical and cultural cues regarding sexuality — these being, largely, the reasons it was such a long road. And as a collector, I've been documenting this as a part of women's history as well. The short story is that this whole Fifty Shades thing is not new. Not in terms of books; not in terms of shock and backlash either. We have a lot of dumb rules and taboos about gender and sex (NWS).
For those reasons, this Fifty Shades magazine will not be tossed out but rather saved as part of my collection. As will my scarlet letter "A". (I got mine! Did you get yours?) The difference, obviously, is which one I believe in, like, admire…
The biggest question then is, do I leave some sort of notes about that so that my kids or future people know why I saved these things, what kind of person I was?