A vintage text ad from the Ritz for Michael Todd Jr's 1960 film, Scent Of Mystery (1960), in "glorious" smell-o-vision! A film which "positively cannot be shown in any other southern California theatre."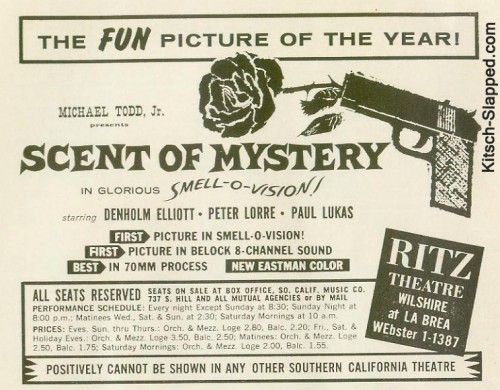 Along with being the first (and only) film in smell-o-vision, the first picture in Belock 8-channel sound (sound which used a control signal to "steer" the single surround channel to three surround tracks: right wall, left wall and rear wall), Scent Of Mystery used the "best 70mm process and "new" Eastman color. The film also had two songs sung by Eddie Fisher — and, because that's how Liz rolled with her lovers, Elizabeth Taylor appeared in the uncredited role of the American heiress targeted murder victim in the film.
The film stunk-up the theatre. In a bad way. The technology was all-but abandoned, and the film was re-edited, converted, and re-released without the odors as Holiday in Spain in 1961.
Of course, smell-o-vision, as a concept, was not entirely abandoned. In the stink-o-rific world of 1980s scratch 'n' sniff cards, , , and scented toys, John Waters released Polyester (1982) in Odorama, which used . A decade later, MTV would re-air Scents Of Mystery using the same scratch and sniff technology. Since then, a number of other films and have used aromas as a gimmick.
It's a shame the idea of aromas accompanying a film are now such a kitschy gimmick. I'm sure Todd and Waters were trying to tap into something more than that. For smell is a powerful and unique sense, strongly and uniquely linked to memory. Properly used and executed, smell-o-vision and all the rest could do more than entertain; it would evoke and create memories. It could boost the cinema and revive community theaters.