This is the cover of The Way To His Heart "A Cookbook with a Personality", 1941; note the figures on the cover.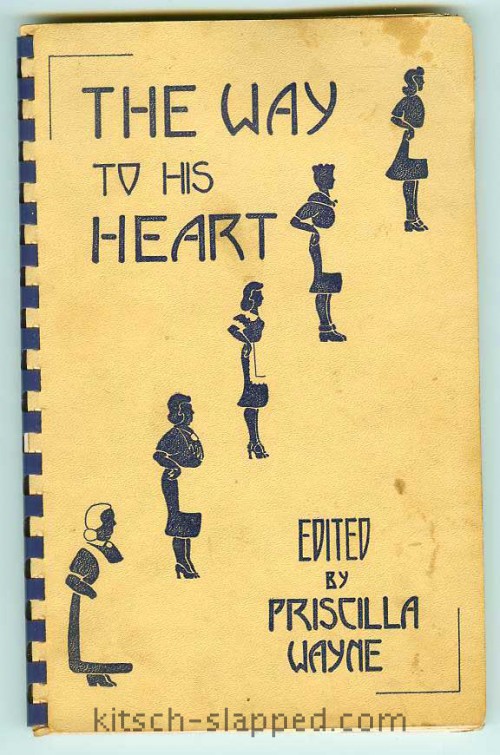 The five female figures on the cover of this vintage cookbook depict the five cooks featured in the book itself. These five women are said to be three generations of one family. From the bottom left working our way to the top right are "Grandmother" Grace Toulouse Hunt, "Mother" Priscilla Wayne Sprague, "Newly Married Daughter" Dorothy Hunt Hales, "Collegiate Daughter" Jeanne Wayne Sprague, and "Teenage Daughter" Nancy Grace Sprague.
While I can admit to certain body changes in terms of aging, I find the rounding of age in proportion to hem length somewhat amusing… Not only is Grandma rather stout, but combined with her nearly floor-length dress she closely resembles a Russian nesting doll. And notice how only newly married Dorothy has curves in all the right places — illustrating her appropriate fertility status. (Heck, her proportions make me want to ask the new wife when she's going to have a baby!) Perhaps even more amazing, this illustrated figure study of body image stereotypes is the artwork of one of these women; at least Dorothy "Dot" Hunt Hales is the artist credited. (More on that later.)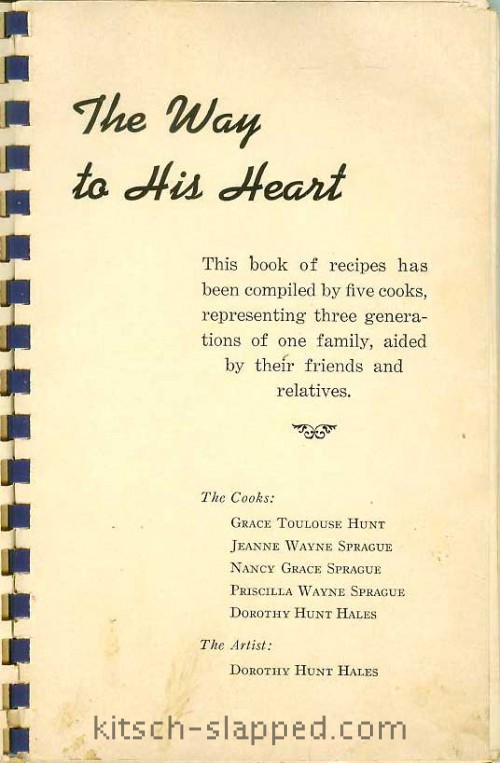 The story or "personality" behind this cookbook is that newlywed Dot writes home to her mother asking for some recipes. The occasion is the wonderful celebration of their 6 month wedding anniversary and the young bride has learned how important cooking and food is to her marriage:
I have discovered one important thing in the past six months — glamour and romance can be preserved in marriage if one's husband is well-fed and comfortable.
Mother is, of course, no doubt delighted her daughter has seen the light and become a believer in the old adage that the way to a man's heart is through his stomach. Not only is mom thrilled to help her wise and dutiful newly married daughter Dot, but mom enlists the help of Dot's grandmother and sisters. These are their "letters" from the front of the vintage book: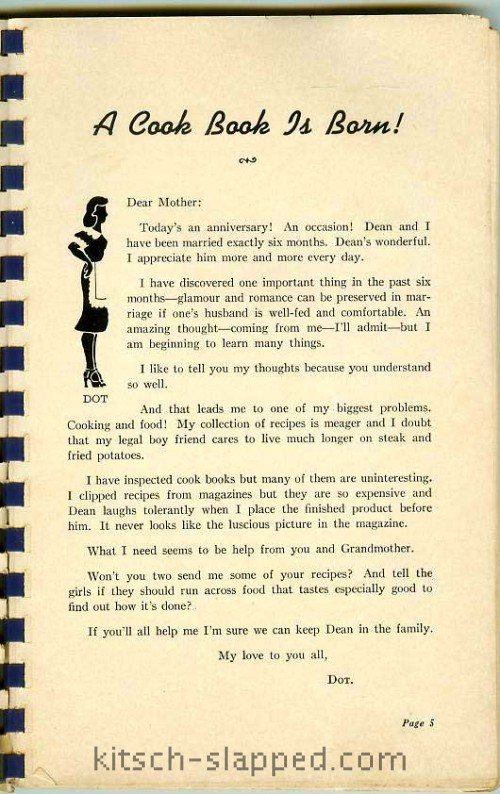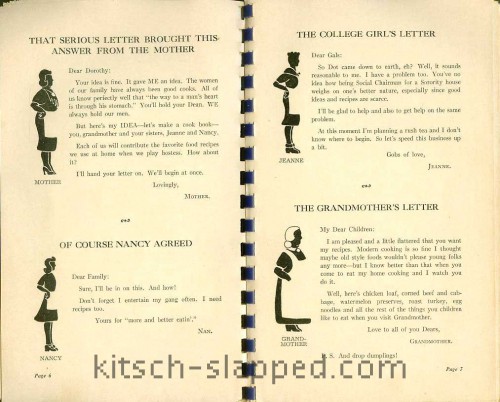 And then, the most amazing thing happens! "One of the top men of Jack Sprat Foods, Inc., heard about it" and they decided to publish the cookbook! Enter Western Grocer Company, owner of the food brand, as publisher; enter the advertisements for Jack Sprat brand foods.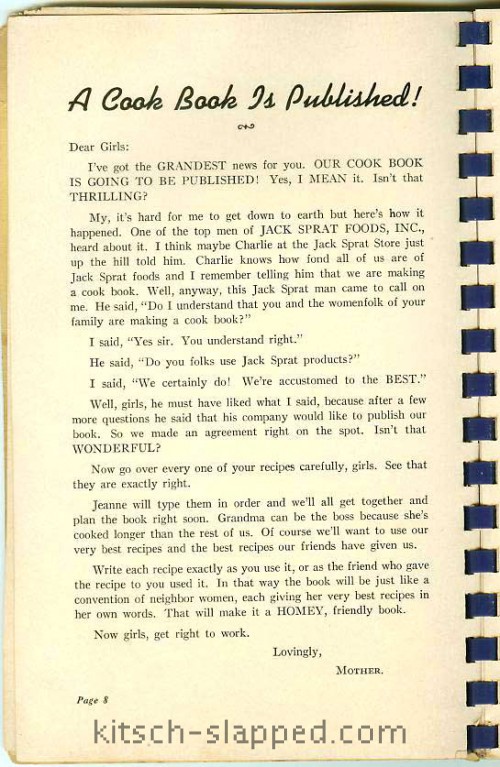 While the "homey, friendly" premise seems rather contrived to the jaded consumers of today (and the corporate ads themselves also draw into question Dot's artwork), the book's editor, Priscilla Wayne Sprague appears to be an actual author. But the proposed family relationships get a bit confusing…. My research continues and shall be reported soon. (Watch this space.)
I also have to share some information from the vintage cookbook's section by college daughter Jeanne. Jeanne's appearance certainly tones down any sex appeal, and we are likely to suppose any fears about daughters in college along with it. And even if such imagery might lend itself to jokes about college girl experimentation and stereotypical lesbian dress, the experimentation in the kitchen appears to have been limited — at least for sorority girls.
A College Girl (this one at least) doesn't really cook at all — sororities provide cooks and sincerely hope they can keep the girls out of the kitchen. There are certain things, however, that the cook just isn't in on, such as late Sunday sandwiches with you and your date — or rush teas and other occasions of state.

When the cook is out and the girls have free rein in the kitchen, here are some of the foods they can cook. All of these recipes are of the type that can be prepared quickly, cheaply and (for the benefit of the dates) charmingly.
Oh, how can poor Jeanne ever get her M.R.S. degree if she doesn't cook?!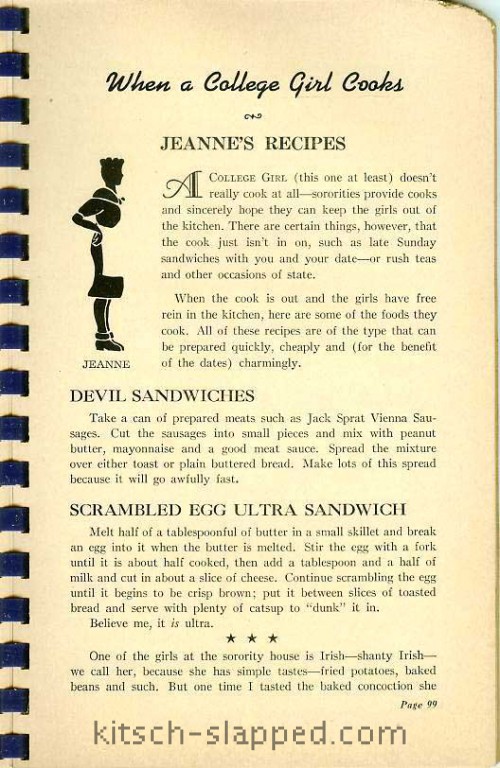 This vintage book from 1941 has some of the racism you might expect from the 1930s and 40s. At the bottom of the page, Jeanne starts a story which continues on the next page:
One of the girls at the sorority house is Irish — shanty Irish — we call her, because she has simple tastes — fried potatoes, baked beans and such. But one time I tasted the baked concoction she used to make and believe me there was nothing "shanty" about it — it was pure Park Avenue — here it is: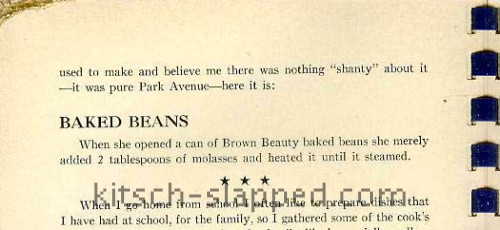 It is recipes like this one, based on canned goods, which certainly marks a change (if not decline) in cooking itself. This turning point in American history turns out to be a good thing for Jack Sprat Foods, Inc. and the Western Grocer Company. The grocery store addresses this issue in one of the advertisements for the Jack Sprat brand:
"Now, when I was a girl," said Mom

"They used to joke about 'cooks who were lost without can-openers.' But it's just a pleasant smile these days."

"Why, Mom?" questioned Nancy, giving just the opening Mom wanted.

"Because now we get the very finest foods in cans — just take these Jack Sprat Peaches, for example." Mom emphasized her point by holding a can at arm's length.

"These are peaches at their very best — completely ripened on the tree, and canned quickly, to capture the fresh flavor and the precious vitamins all fresh fruits contain. No more sweating over a hot stove for me, when Jack Sprat will do the job for me so well!"

Of course Nancy agrees with Mom. What modern girl wouldn't rather play tennis or swim on a summer afternoon, instead of helping can fruit in a sizzling kitchen?

Mom's verdict applies not only to Jack Sprat Peaches, but to pears, apricots, pineapple, and an arm-long list of fine berries. You'll find it pays to let Jack Sprat do your canning too.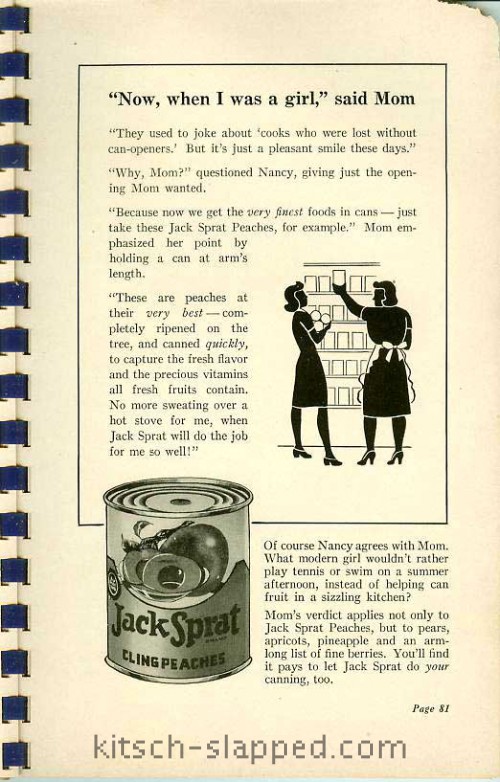 If the convenience of modern canned foods was the advent of more free time for girls and women, perhaps it can be linked not only to the decline in cooking skills but to the decline in the "way to a man's heart" adage. Men such as Barry Popik say this approach works for dogs and not men; however ironic the dog reference may seem to me, Popik seems to be saying this food-as-lure lore doesn't work. Also, men at AskMen no longer find cooking on their top list of skills necessary in a female partner. Enlightenment reaches us, maybe? Would that such enlightenment about female body images would change as well.