This holiday weekend, in honor of Memorial Day, I've seen this poster circulating quite a bit…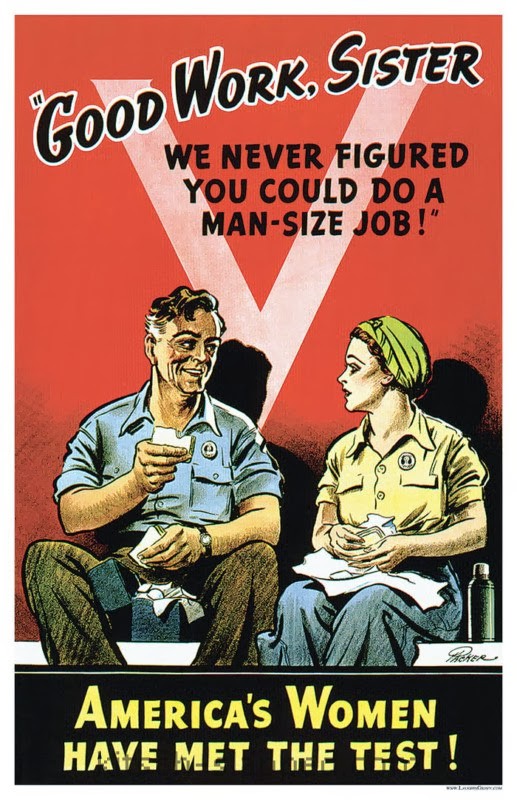 But there are some things you should know. (Yes, feminists often don't have the luxury of taking the holidays off.)
Info on this vintage WWII poster:
"Good work, sister.  We never figured you could do a man-size job!"

America's women have met the test!

Artist:  Packer.  For Bressler Editorial Cartoons, Inc.
What a lovely backhanded compliment this whole poster is.
The whole gender dynamic is astounding…
…The language — use of "never" and "a man-size job" — is insulting.
…The man being shown as larger to impress upon us both the size of the job and the 'little lady' is a bit of visual overkill. (But, hell, shouldn't that USDA prime cut of red-blooded American beefcake have been drafted?)
Fundamentally, it seems this poster was designed to assuage male discomfort at the notion of "Rosie the Riveter" women working outside the home rather than actually thank women for their work.
Facts:
During WWII, almost 400,000 women served in the US armed forces — including 6,500 Black women who faced even larger racism hurdles to do so. Those are pretty big tests too, poster.
However, despite any of their wishes, women could not serve in combat. Because "menstruation & bears!" or something.
But still, even without combat duty, many women — over 400 of them — lost their lives serving their country in the armed forces. In addition to the fathers, husbands, brothers, and sons we lost, we also lost mothers, wives, sisters, and daughters. More were wounded. Women sacrificed mightily. And not just the danger of "those spreading hips that may come from long hours of sitting" too. They gave their lives and limbs, just as men did; only the women suffered more in secret. Just as they do today. Just as they always have during war: See This.
Whether women & girls worked in factories or shipyards, in the armed forces, in their yards planting victory gardens, in their homes — wherever they worked — they served this country. To the best of their ability — and as much as they were allowed.
This holiday, remember everyone who gave for this country.