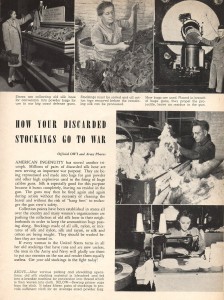 Awhile ago, folks working on The Launch at the historic Hingham Shipyard, contacted me about one of my pieces of ephemera, a page from Modern Woman Magazine (Volume 12, Number 2, 1943) with the article "How Your Discarded Stockings Go To War."
They wondered about using the image in the series of panels which would be placed along pedestrian walkways, creating a walking tour educating people about and commemorating the history of the shipyard's role in World War II. In case you don't know, the Hingham Shipyard was one of the largest shipbuilding centers in the entire country, where over 2500 women worked, putting out over six ships each month.
Long story short, I've finally got photos of my contribution to the Hingham Shipyard Historical Exhibit, included on the 'Home Front Sacrifices' panel (the one with the children & Victory Garden veggies).