Donald Trump may pretend to be a Bible-toting evangelical with his "two Corinthians" bit, but he has more in common with Bible-thumping Ted Cruz than some may have realized. Both patriarchal fools have appeared on the cover of the National Enquirer for alleged sex scandals — cheating on their wives, to be precise.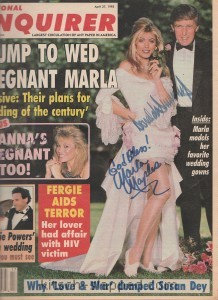 I'm sure by now you've read all about the #CruzSexScandal. While The Daily Beast reports such tales of Cruz's cheating have been peddled for months, one must remember that sometimes the Enquirer gets it right. Even if you go by the old idea that if you throw enough things you'll find something that sticks, the publication was also right about Trump's affair with Marla Maples.
Since this past survey of cheaters at Ashley Madison suggests that evangelicals are the least faithful when it comes to spouses, perhaps that all plays to the evangelical base anyway.
…Then again, it seems evangelicals are always ready to cast the first stone — even if they are the most repressed and tend to be anti the things they themselves cannot control, like alcohol and sex. (That last one is why they are so anti-abortion — it's all about women's sexual autonomy.) That's one of several things (like fake women bots) we can learn from the whole Ashley Madison hack & ensuing debacles.
Image Credits: 1993 National Enquirer signed by Donald Trump & Marla Maples (& Vanna White) via eBay — current price: $150.