In Look for the Detail!, Beryl Kenyon de Pascual tells the story of this pair of vintage bookmarks: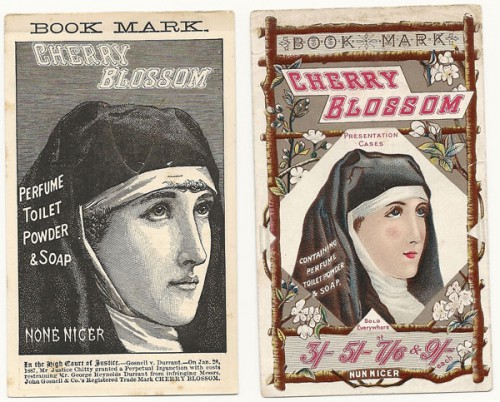 The fourth example is also from the late nineteenth century. The cosmetic firm of Cherry Blossom—not to be confused with the company that makes shoe polish—produced a bookmark featuring a nun on one side and a biennial calendar on the reverse. The earliest examples were printed in black and white and include the phrase 'none nicer', as in the reproduction of my 1889/1890 bookmark. I found the relevance of the nun puzzling in the context until I acquired a chromolithographic issue from 1897-1898. The latter is more decorative and does not have the die-cut page clip found in the black and white series. The nun was nevertheless retained as the central feature. The phrase 'none nicer', however, was amended to 'nun nicer'. The light dawned on me. In some regions 'none' is pronounced the same way as 'nun'. Since I pronounce the two words differently the play on words had passed me by. Possibly other people were puzzled at that time and this may account for the change in the spelling of the phrase to a form that highlights the pun and explains the apparent incongruity of the nun.
I had to read this twice in order to comprehend that there's another way to pronounce "none" — a way that doesn't sound like "nun."  Beryl Kenyon de Pascual was born in England — and she worked as an international linguist, so I'm terribly surprised. But even more curious to hear how she and others pronounce "none." Please do share!