Just 'cuz it's old, doesn't mean it's not worth talking about.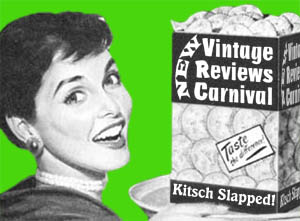 Home of the monthly New Vintage Reviews Carnival, a round-up of reviews of old games, books, toys, films, fashions — any merchandise or products made/published prior to 1990.
Reviews of stores/sites which sell retro and vintage items are also welcome, as are reviews of the classic travel destinations & roadside attractions of yesteryear.
The blog carnival will be published on the 20th of every month (or thereabouts). You can view past New Vintage Review Carnivals here. Submissions are due by the 15th.
Submissions will be selected on basis of quality; it's not guaranteed that all submissions will be accepted.
Submit your review to the carnival here.
Carnival hosts welcome!