Perhaps today's right-win conservative evangelists are only following the advice of Dorothy C. Haskin in God In My Kitchen: Fifty-Two Thoughts For Homemakers
(copyright 1958, Warner Press, Anderson, Indiana)…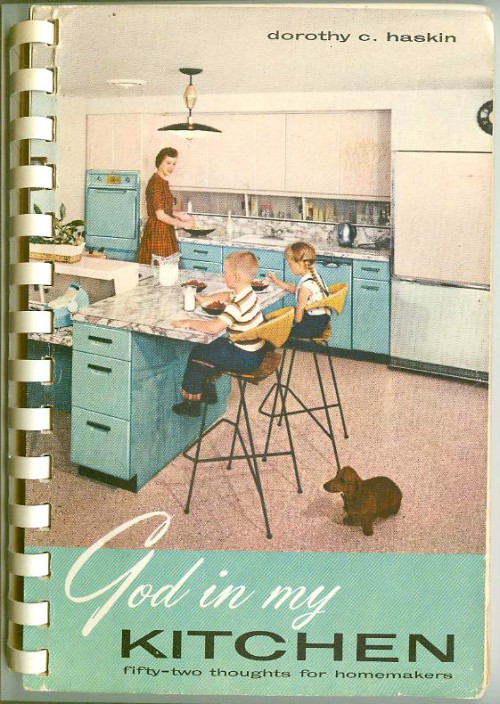 In chapter three, Beauty, we find the following:
Sheer physical good looks do not necessarily go together with excelling character or outstanding achievement. Our most handsome presidents were perhaps Warren G. Harding, James Buchanan, Franklin Pierce, and Chester A. Arthur. None of these are rated by historians as among our top national leaders. The presidents most praised by historians were not handsome men. George Washington was pock-marked. Abraham Lincoln's rugged features are well-known and Theodore Roosevelt was bristling in appearance. Parent will do well to mention these things, because many children worry about their looks.
So I guess, by the laws of logic one should be voting for "ugly" candidate?
But that depends upon your definition of beauty; thankfully, Haskin helps with that.
Beauty is something which every girl can have. A young girl was praised for her beauty. Privately her father told her, "People are not praising your beauty, but your youth. You can take no credit at all for beauty at sixteen. But if you are beautiful at sixty, you can be proud of it, for it will be your character which has made you beautiful."
Way to connect with your daughter, dad. Yeah, there's some truth in that, but talking about her future old crone status is sure to help her in high school — because you know every high school kid thinks they'll be dead before they reach the old age of 30. Sixty? What the hell is that?!
But I've shown poor character and interrupted Haskin again.
True beauty shows when your face is in repose. The natural expression reflects character. It may be fretty, quarrelsome, or reveal a spirit at rest with God. Another time that true beauty may be seen is when you greet someone. If you are self-centered, your greeting is without feeling and does not light your face. But if you are genuinely friendly, your greeting of others will bring a radiance to your face.

A Quaker woman's recipe for beauty was:

"Use for the lips, truth… for the voice, prayer… for the eyes, pity… for the hands, charity… for the figure, uprightness… and for the heart, love."
Because everyone talks about how beautiful Quaker women were! Seriously, I'm not a religious person (shocker!), but most of that sounds pretty nice and pretty sane to me — get it, pretty nice? Pretty sane? lol
Anyway, because I'm not religious — and because I've had my fun's worth of this book, I'm giving it away.
There are many ways to enter; options. But you need only do one, if that's all the effort you wish to put into winning… And no, I don't care if you want this vintage homemaker's book for ugly or pretty reasons. Just enjoy it!
To Enter:
* Follow me on Twitter: @DPopTart. (Please leave your Twitter username in your comment so I can check.)
and/or
* Tweet the following:
I entered @DPopTart's contest to win a FREE copy of God In My Kitchen http://bit.ly/n7fIhz
(Remember to come back here and leave a comment with your tweet for me to verify.)
You may tweet your entry once a day.
and/or
* Friend me on Face Book: Deanna Dahlsad. (When making the request, note that you are entering the contest.)
and/or
* Post about this contest at your blog or website — if you do this you must include in your post to this contest post or Kitsch Slapped in general.
(Please include the link to your blog post in the comments section so that I can find your post.)
and/or
* Post your entry as a comment — if you do this, please make sure I've got your email address, because if you're the winner I'll need your email address to contact you regarding your shipping information.
Here's the giveaway fine print:
* Giveaway is open to US residents only
* Be sure that you leave your email so that I can contact you
* Contest ends October 10, 2011; entries must be made on or before midnight, central time, October 9, 2011. Winner will be contacted by October 11, 2011, and has 48 hours to respond; otherwise, I'll draw another name.