That darn Sister Patricia also owned a copy of Little Chink, one of (at least) three Musical Recitations by Helen Wing.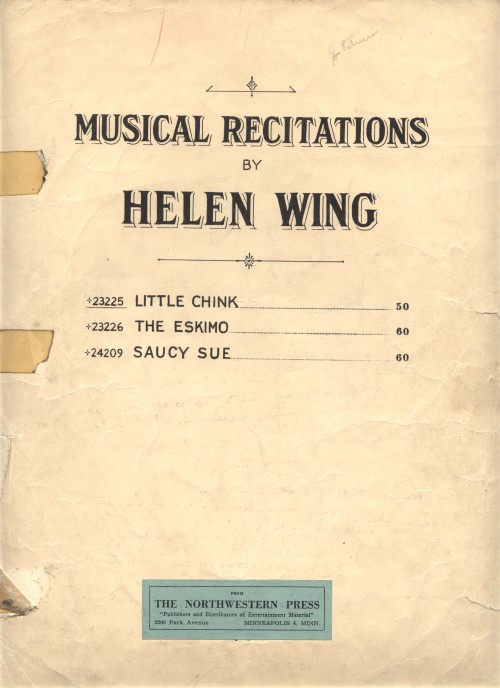 Little Chink is by one Mildred Merryman — who, as it turns out, is quickly becoming an obsession. More on that in a bit; first, here's the lyrics.
Chink, Chink, Chinaman, named Chow-Chow,
Lives all alone with his dog Bow-Wow,
Sits and drinks his tea all day
Out of a tea-pot, Chinese way.
Chinese girl thinks he's just right
She sings to him with all her might:

Little Chink Chink Chink
I think think think
You must be wise
Little Chink Chink Chink
When you wink wink wink
With your funny little beady, little eyes.
Little Chink Chink Chink, I love-a, love-a you
Lets you marry me and I'll marry you,
Little Chink Chink Chink
What do you think-What Do you think?
I saw you wink! Little Chink.
I get that the word "Chink" lends itself to easy rhymes like "wink" and "think", but geeze.
Now, the second verse is not printed with the actual music composition, so when I saw Sister's penciled lyrics, I immediately thought that she herself had (as she had done with Japanese Love Song) made her own lyrics, creating the "pig-wig tail" part.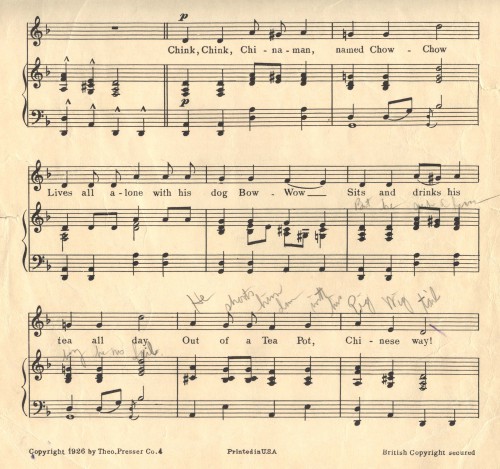 But inside the front cover, the entire lyrics are printed. Here's the second verse:
Once came a big bear Woof! Run, run!
Poor little Chink, Chink have no gun,
But he such a brave boy, He no fail!
He shoots him down with his pig-wig tail
Chinese girl thinks he's so smart
She sing to him with all her heart.
So while Sister is guilty of purchasing, playing & likely directing a choir of children to sing this song based on the titular ethnic slur, she is free of the sin of writing any part of it. That honor goes to Mildred Merryman…
Mildred Merryman is Mildred Plew Merryman, nee Mildred Plew Meigs. Very little is known about Mildred — something that only makes me more obsessed. I do know that she wrote a number of poems for children, so silly & full of rhyme that they naturally lend themselves to children's songs — making each poem a potential ditty. (In some cases, a real doozy of a ditty.)
From what I can see, neither her other poems or ditties are so offensive. In fact, they are quite cute. So I continue to hunt for more and am doing some heavy research. Stay tunned for more on Mildred.