So, if you read part one, you know that the problems with getting in the mood for sex with your partner — especially both of you being in the mood at the same time — are relatively normal and they are not to be taken personally. What can you do about it?
Couples are often told to make "date time" with our spouses and partners — you know, schedule romantic dinners, go to the movies, do something "just the two of you." I can tell you that this may sound wonderful — but too-too often it becomes just another thing to do. Ugh. Instead of whistling happily as you shave & get dressed, you find yourself groaning & grimacing as you glance at the clock, calculating how much time you don't have to be "date perfect," thinking about what other things you could be getting done — and wondering just how long this date's supposed to last anyway… Instead of being relaxing & romantic, it all just becomes another obligation.
And then you worry, "If this is supposed to be 'romantic,' are you going to have to put out too?" That can add to the stress & obligatory feelings; there's a pressure to perform — on both sides. Ending up in a tangle of guilt & resentment — often coming from ourselves, not our partners — which pulls us away from one another rather than pulling us in closer.
I think people should take a night or time off, as often as they can, to reconnect as a couple, but it's easier said than done.
First of all, you're going to have to make a commitment to intimacy with your partner. You're going to have to make it a priority — equal to the other things on your to-do list — and have a positive attitude about it. Don't do it grudgingly; look forward to it. Change your attitude about yourself and your partner — commit to this time because you deserve it.
Work towards creating time & space to romantically connect — without placing pressure on yourselves. Maybe that means staying home, turning off the phones (yup, cells too), and watching a DVD together. Maybe it means going to a restaurant, luxuriating in a leisurely meal & talking. Maybe it means having a date but putting sex off for another time — like make promises for a nooner the next day.
Seriously. It's one of the best ways to jump-start your libidos.
Don't act so surprised; the quickie can be the hot follow-up to the emotionally intimate conversation, a passionate act that reminds you both of when you were so hot for one another that you couldn't keep your hands off each other. Scheduling a quickie can also be a great way to increase aroused anticipation. Anticipation can be a great arousal for women. And for men, who might be feeling they get mixed signals (like mistaking your sleepy morning kiss as a sexual invitation, only to get rejected and have that hurt & frustration make them feel any advances are unwanted) the nooner appointment will let them know that it's "on" for real. In short, a scheduled nooner (after you've reconnected emotionally) is like a literal "heads up" *wink*
But once you've set aside time for your dates & quickies, how can you relax and forget about bills, work, kids, obligations left unfulfilled… And look forward to sex as a satisfying thrill, not another something to put on your to-do list… How can you really want it?
Some folks say a glass of wine or a cocktail helps. But as my friend Karla says, "Having a drink or two doesn't help. Sure, it relaxes me & gets me ready for bed — but it's in that 'tuck me in, I'm snoring already' sort of a way. So not sexy." So know your limits or skip the alcohol and stay awake.
Some folks, especially women, say it helps to take a nap, get a manicure, or otherwise spend some other relaxing luxurious "me time" that makes them feel female (or at least human) again.
My friend Sara says that having a pizza delivered helps to set the mood too. "There's no rushing around to make dinner or clean-up after it and it brings back memories too — no, not of funny porno film scenarios, but of those early dating days when we were too hot for each other to want to leave the apartment."
All these things may help you relax, but what if you feel more inclined to cuddle and sleep than do the deed?
While there are many products and appliances to enhance male arousal, there's been little offered in the way of of such help for women. Until now.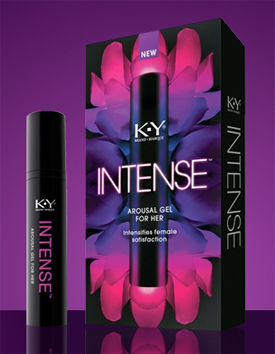 The makers of K-Y Brand sent me a preview full-sized sample of INTENSE™— a female arousal gel scientifically shown to enhance female pleasure, arousal and satisfaction during intimacy. According to the lit sent with the product, "75% of women in consumer studies experienced heightened arousal, sexual pleasure and sensitivity…where it counts most."
It sounded yummy, but I thought, "Really now," as I clicked my tongue with the jaded sophistication of the all-knowing woman who has been disappointed before. But I had agreed to test it, and I'm not one to shirk my responsibilities — Heh heh. Plus, I had a reason to invite hubby for sex — I mean, we support each other in our work, ya know? *wink*
So we gave the K-Y Brand INTENSE™ Arousal Gel a test drive. He pumped just a small drop out of the dispenser bottle, and applied it to my most intimate parts…
Then I felt it, cool & tingly, like peppermint — and very reminiscent of the arousal of our early days, when I couldn't wait for him to touch me… There. That tingle was amazing!
It was fun, for sure, but quickly my ability to concentrate on the product — or anything else — evaporated as I got lost in *ahem* everything else. Afterwards I realized that this product might work really well as a quick pick-me up — you know, dab a bit on myself before he came home for our nooner date… Be ready & waiting before I even saw him… So I decided to give that a try too.
It worked! I had the emotional anticipation and the tingle, which made the quickie all the more satisfying.
And that means that if you feel that there isn't time for all the foreplay that you need, or in that spot you need, INTENSE™ may help. There's the application massage time & the increased sensation — which increases the pleasure of natural movements during sex, even if your love button isn't being directly manipulated.
So I highly recommend adding K-Y Brand Intense Arousal Gel For Her to your sex life — and to consider adding a little dab to yourself to get fresh fresh-en up before your special time with your partner. I guarantee that this little dab there will do more for you than that perfume you dab behind your ears. *wink*