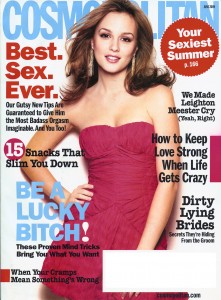 The June issue of Cosmo has a cover screaming the usual predatory scare tactics about love, lust, sex and how not to be a fatty. But buried on page 44, the pickle-sized beef patty on an obnoxiously condiment loaded burger, is the meet of the issue.
Is It Ever Okay To Stay If He's Hit You? is an article prompted by the Rihanna/Chris Brown situation (another topic I should sink my teeth into, eventually), and it discusses how even a shove is dating violence.
While the one page (large font & image laden) article isn't bad, it barely covers the subject of dating & domestic violence past the surface stuff. However, given Cosmo's poor & even dangerous presentation of such serious issues, I suppose I should count my lucky stars that the topic even made it into the glossy — even if it, as it usually does these days, took a celeb situation to warrant any coverage at all.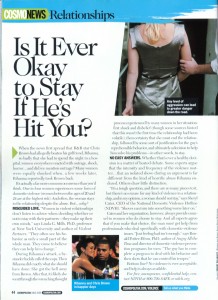 But I'm not thrilled.
Not just because it's skimpy coverage, designed to provide assistance in gossiping about Rihanna and her "shocking" decision to "take Chris back." But because it's buried on page 44 — and the issue isn't even put on the cover.
Yeah, I know that the domestic violence issue, like rape, is a downer and that it won't make copies fly off the news stands like Best. Sex. Ever. (I know this from writing Relationship Underarm Stick.) But is it too much to ask that Cosmo give attention where attention is due and at least try to look like it gives a damn about the safety of women? More in-depth — and accurate — articles, please; and load the cover with 'em when you run 'em.
Because while the chicks who read this stuff are probably the least likely to be drawn to important personal safety information, they are probably the most in need of it.