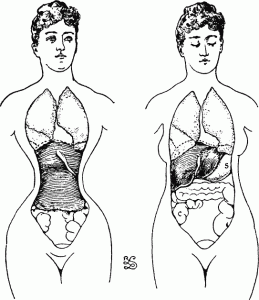 It's fashionable these days for folks to denounce the historical use of corsets as akin to Chinese footbinding — an early form of plastic surgery.
Corsets and tight lacing are said to have controlled women to their physical detriment; corsets have been blamed for breathing problems, broken ribs, curvature of the spine, hunchbacks, prolapsed uterus, miscarriages, hysteria and other mental illness, fainting spells, epilepsy, and even fatalities. Supposedly, in 1859, a 23 year old Parisian woman at a ball was "proved to be the envy of all with her thirteen inch waist; two days later she was found dead."
As one who has held antique corsets in her hands, I find some of this a bit hard to swallow. Holding antique corsets which have been worn, one sees the evidence that the human body is not so easily molded; along with stretched fabric and folds from human flesh, there are torn seams and broken boning, all proof that female forms made the corsets conform to them.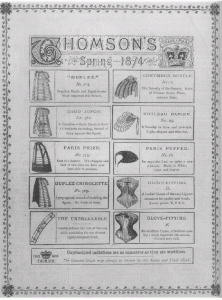 But you don't have to take my anecdotal word for it; there's an ephemera trail of advertisements to prove this too. This 1874 ad for Thomson's undergarments features The Unbreakable, which by its claim that it "greatly reduces the risk of fracture, while permitting the use of most highly-tempered steel," proves that women's bodies forced damages on corsets and their structures.
But you don't have to take this to heart either — you can, at least for now, remain as firmly fixed on the idea that corsets were bad as you believe the horrible contraptions were on the female forms they mangled. You wouldn't be the first…
In 1653, Dr. John Bulwer wrote in Anthropometamorphosis, Man Transform'd (aka The Artificial Changeling, London 1650), that 'straight lacing' was said to be the cause of "stinking breath" leading to "consumptions and a withering rottennesse." (Bulwer also was anti-circumcision, but that's another 'piece' altogether.) However Bulwer's B.S. (consumption, for example, was tuberculosis and not caused by corsets; halitosis is rarely, if ever, a result of stomach issues, rottennesse or otherwise), is generally aimed to ridicule and condemn female vanity and following of fashion than it is aimed at helping physical ailments.
Fashion, especially women's dress, has always reflected the the morals, values, and dynamic changes of society. And fashion (as well as its icons) have also been used to sway public opinion and create changes in society to reflect new norms. Which part of this rule, reflection of or tool used, is the corset?
Am I to believe that by the late 19th century the medical community — which was still neither treating female patients nor studying their physiology — suddenly cared about women? Even if they seemed to agree with the feminists of the time, the suffragettes, they seem too much like the proverbial odd bedfellows to me…
Let's start by looking at the facts about where the so-called medical evidence of health problems from wearing corsets (such as in The New York Medical Journal, November 5, 1887) came from.
Fact: It was (and still is) easier to obtain permission to study the bodies of the lower and working classes. As with any 'scandal', the wealthy have the privilege of privacy — both in their lifetimes and afterwards. Not only are the wealthy protected from any examinations, but from stories about their lives and deaths — real or fanciful. Publicity could and would bring lawsuits. The poor or not-wealthy have less might to preserve any rights; prostitutes and others who either dropped dead on the streets or otherwise would have had their bodies dumped in pauper's graves (and mass burials) have virtually no rights at death. These are the bodies science used. As a result, the information available would be skewed at best, completely false at worst..
Fact: The health of the lower classes was (and comparatively still is) horrible. Among the anecdotal examples of the corset as undergarment of death and destruction:
A 21 year old prostitute who died of syphilis, consumption, and corsets while sitting in a police station.
A chambermaid who was found dead after suffering from extreme stomach pains. Upon her death, her stomach was found to be nearly severed in half "leaving a canal only as narrow as a raven's feather."
These stories are horrific, yes; but are they accurate?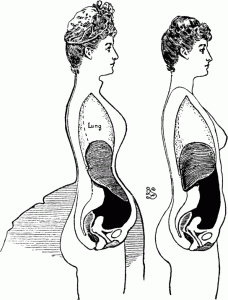 Clearly dead women had health problems, but from corsets alone? When you read such things (which are said to be documented in Fashion and Fetishism by David Kunzle), you simply have to consider the alternatives to "the corset did it." These deaths are more likely attributed to general health problems of the poor and working class. Diseases such as TB, syphilis (and other STDs), reproductive problems from multiple pregnancies, dietary deficiencies such as rickets, etc. were incredibly common.
It's more than possible that these stories have been exaggerated or even made up (Who would question the 'findings' or rush to the defense of a prostitute or a chambermaid?) to further an agenda. But if the stories were made up, why? What was the motivation, the agenda?
Come back Monday, for more…