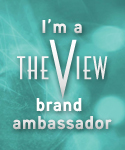 So, like Stacy (who gave birth during The View), I've spent the last few weeks as a Brand Ambassador for The View and thought I should share some of my thoughts on the experience. I've blogged about a few of the shows, but I think the most interesting conversations were those I had with friends and family.
Most of my closest friends are internet friendships — not only because my life as a freelance writer keeps me glued to my monitor, but because these friendships have been formed on mutual interests and issues. As a result, we all seem to have the same likes and dislikes about The View — most especially our feelings regarding the ladies of The View. For example, we love and trust Whoopi, Joy, and Barbara as steadfastly as we pity and mistrust Elisabeth and Sherri. However, I have several family members who feel exactly the opposite.
Perhaps most interesting is that after all these years of watching, after all the Hot Topics discussion, we each continue to remain rather married to these feelings, beliefs and attitudes despite our firm belief that it's through this discussion, both the ladies on the show and our less public personal conversations, that we not only can but will learn, grow and change.
Yet, I remain as heatedly fixed on Hasselbeck's righteous fear-based stupidity (yes, "stupidity," because she cannot claim ignorance) applied as fear mongering to limit and control others as I've always been.
Heck, I still get hot about Hasselbeck's confusion between love and sex, her insistence that fairy tales are sex education, and her preaching that the only way we can be saved from the realities of the world we all live in is to stick our heads in the sand — including forcing everyone to join her under said sand and limiting the rights of others even further; she discriminates and insists we all do it with her! That was years ago and my ire won't die. Not until such stupidity is gone and done.
But neither does the support of Hasselbeck's position.
So does The View really do what we all believe it will?
Perhaps not — if the only way one measures the importance of such talks is a change in position. But if you consider the benefit of talking in other ways…
Most of the time we take the high road and agree to disagree, taking it to the extreme of avoiding such conversations out of respect. But the cost of doing so is that we avoid the issues.
With The View, we have a frame for the conversation, a table to sit at, and, perhaps best of all, a time frame for discussion. If we listen and talk with each other and then move along to the next thing — be it an issue we agree on, a celebrity interview, or some shopping thing — we have set limits and prove that we can discuss, agree to disagree, and still connect on other issues. Our conversations can be challenging but our relationships need not be challenged.
This, however, is thwarted by The View's time slot.
Too many people work days when The View airs. Watching "together" even though miles apart isn't the only problem; TiVo space and hours in the day not being infinite, intentions of watching later may pave the road to hell. Even watching episodes online is problematic… Even if these family members of mine use the internet (and many of them don't use it beyond email & photo sharing), it's just not the same viewing experience.
Maybe ABC should consider giving The View an additional evening showing.  Who wouldn't rather watch it than another same-old Jay Leno dealio?
*****
As a Brand Ambassador for The View, I am a participant in a Mom Central campaign for ABC Daytime and will receive a tote bag or other The View branded items to facilitate my review; as you can tell from my long-winded posts about The View, the tote or whatever I may get is not my priority, but I mention it to be ethical.