TWA used to have absolutely delightful certificates
to commemorate flights, like this one from 1953: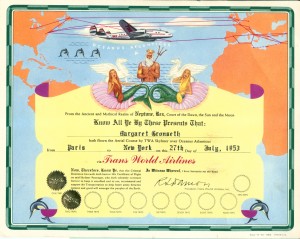 They used to give these fanciful certificates to passengers as souvenirs — and as a loyalty buy in.  But unlike attempts at 'keeping' customers interested with temporary gimmicks, TWA had them take an oath:
Now, Therefore, Know Ye, that this Celestial Dominion herewith doth bestow this Certificate of Flight on said Skyliner Passenger, who doth solemnly covenant forever to keep it unsullied and to use, recommend and support Air Transportation to help foster amity between nations and good will amongst the peoples of the Earth. In Witness Whereof, I have hereunto set my hand, (printed signature) President, Trans World Airlines, Inc.
Wouldn't it be great if you could find such a charming, creative way to ensure your customer's loyalty?
*****
What's this Big Mouth Promotions thing? Oh, OK, now I get it.